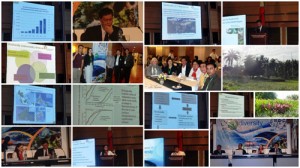 The International Conference on Biodiversity and Climate Change (ICBCC) taking place at the Philippine International Convention Center (PICC), Manila, Philippines, 1-3 February 2011 resumed today with a discussion on Biodiversity conservation initiatives under Plenary Session III . APN's partners highlighted a number of key issues in this session which was chaired by Marcial Amaro Jr., APN Scientific Planning Group Member for the Philippines and Director, Ecosystems Research and Development Bureau-Department of Environment and Natural Resources (ERDB-DENR).
Porfirio Alino introduced the marine biodiversity initiatives at the Center Integrated Coastal Enhancement: Coastal Research Evaluation and Adaptive Management (ICE CREAM) on behalf of the Marine Science Institute, University of the Philippines. ICE CREAM Programme for Climate Change is a 5-year marine–related climate change programme funded by the Department of Science and Technology (DOST) through the Philippine Council for Aquatic and Marine Research and Development (PCAMRD). This programme aims to link science and management, foster knowledge-based networks and elucidate climate change impacts in the marine environment through: collaborative research, information sharing and modelling, feedback and response systems and partnerships with local communities, national agencies, non-governmental organisations (NGOs) and local government units (LGUs).
The role of the International Programme of Biodiversity Science (DIVERSITAS) in moving biodiversity science closer to decision-making was explained by Anne-Helene Prieur-Richard, DIVERSITAS Deputy Director. She noted that DIVERSITAS promotes an integrative biodiversity science, linking biological, ecological and social disciplines in an effort to produce socially relevant new knowledge; and provide the scientific basis for the conservation and sustainable use of biodiversity. The Programme provides government agencies and policy-makers with the information required to make sound decisions on biodiversity issues. Linda Anne Stevenson, APN Secretariat Executive Science Officer, who is officially representing APN at the Conference, met the DIVERSITAS Committee, including Chair Victor Amoroso, for the Philippines and discussed collaboration in the Asia-Pacific region for DIVERSITAS-related science.
A presentation on the strategies for biodiversity conservation in the ASEAN regions was given by Rodrigo Fuentes, Executive Director, ASEAN Center for Biodiversity (ACB). The Center facilitates cooperation and coordination among the ASEAN Member States and with relevant national government, regional and international organisations, on the conservation and sustainable use of biological diversity and the fair and equitable sharing of benefits arising from the use of such biodiversity in the ASEAN region.
Below are some of the key issues highlighted in the session by APN's partners (ACB and DIVERSITAS):
Biodiversity loss drivers
Tipping points
Closing the gaps
Capacity building
Science-policy and interdisciplinary approaches
Adaptive capacity
Scientific research and creating new knowledge
Partnerships at all levels
More information will be made available on the APN website and in the next edition of the APN Newsletter.