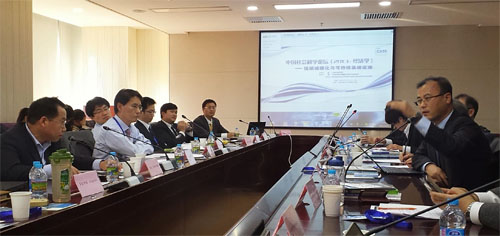 6 December 2013, Beijing, China — APN introduced its activities under the Low Carbon Initiatives framework in an international symposium on low carbon cities jointly organised by the Chinese Academy of Social Sciences (CASS) and United Nations Economic and Social Commission for Asia and the Pacific – Subregional Office for East and North-East Asia (UNESCAP-ENEA).
The symposium, entitled "Realising low carbon cities in Northeast Asia: Bridging science, policy and promoting cooperation," brought together development experts, academics, policy makers, sub-regional and international agencies, city and NGO representatives from across Northeast Asia to share best practices and lessons learned from their work in promoting Low Carbon City development in the sub-region.
An important outcome of the symposium is that participants expressed the need to launch a partnership for information sharing and capacity building, combining the efforts being made by various stakeholders from both the public and private sectors at all levels in the sub-region.
The symposium addressed the issue of low carbon cities development through the perspectives of policy measures, tools and methodology, finance and economics, as well as knowledge sharing. This was followed by a review of what is being done by various actors and potential options for sub-regional networking for increased synergy across the sub-region.
APN, represented by Xiaojun Deng, Programme Officer for Communication and Development, shared the recent activities being undertaken under the newly established Low Carbon Initiatives framework, highlighting a project on innovative financial mechanisms for low carbon infrastructure investment led by Dr. Joni Jupesta of United Nations University.
Regarding the needs for a network or platform for information sharing and capacity development, the APN representative stressed the importance of multi-stakeholder involvement; regular processes to synthesise knowledge available, including in gray literature; well-designed and targeted information product for different audiences; the combination of research and capacity building; and the harmonisation and replicability of tools and indicators for cities in the region, among others.
For more information about the symposium, please refer to UNESCAP-ENEA website at: http://northeast-sro.unescap.org/news/urban-cities-of-northeast-asia.html
By: Xiaojun Deng, Programme Officer for Communication and Development, APN Secretariat.