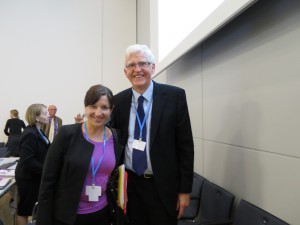 Bonn, 4 June 2015 — At the Seven Research Dialogue at SBSTA42, APN representative Dr. Andrew Matthews introduced the Network's experience in capacity development in the Asia-Pacific region and pointed out some major issues from the perspective of developing countries.
More than 80 participants, mostly from the policy maker community,  attended the 7th Research Dialogue, where Dr. Mathews, in a session entitled "Lessons learned and good practices for knowledge and research capacity building, in particular in developing countries", presented on APN's recent activities and development, drawing attention to:
APN's experience in developing research and policy-maker capacity in the region;
The need to respect cultural differences as we engage and inform local communities;
Challenge remains in engaging policy makers in science-policy dialogues.
These comments resonated with the delegates and there were a number of very positive interventions about the APN presentation from delegates, particularly on some of the difficulties as pointed out by Dr. Matthews.
A video stream of APN's presentation and slides can be found on: http://apn-gcr.org/r/sbsta42
The annual Research Dialogue  is a forum where relevant organisations and programmes regularly inform SBSTA of developments such as emerging scientific findings, research planning activities, research priorities and gaps, research capacity building activities particularly in developing countries, regional climate change research networks and relevant communication issues.