APN project "Participatory Approaches to Forest Carbon Accounting to Mitigate Climate Change, Conserve Biodiversity and Promote Sustainable Development" paved the way to the development of a new publication, Community based forest biomass monitoring: A manual for training local level facilitators.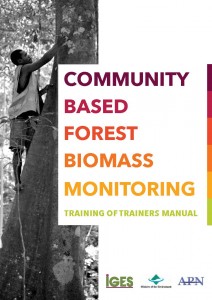 The publication guides the training-of-trainers to build the capacity of the local level facilitators on selecting, testing and adapting the technical parameters and measurement methods for forest monitoring, and on designing an effective field training. It also serves as a reference material for forest community organisers to practice effective facilitation skills that are essential for any participatory methodology with local communities.
The project, EBLU2012-02CMY(R)-Takeuchi, is part of APN's focused activity "Ecosystem, Biodiversity and Land Use," and was jointly funded by APN and the Ministry of Environment of Japan (MOEJ).
Activities behind this publication was implemented by the Institute for Global Environmental Strategies (IGES) and forms the larger Community Carbon Accounting Action Research Project, which aimed at involving forest-dependent communities in forest carbon stock estimation and monitoring, and other aspects of forest management, to achieve real, long-term emissions reductions, biodiversity conservation and sustainable development outcomes, including livelihood creation.
To get a copy of the manual, please visit this link: Community based forest biomass monitoring: A manual for training local level facilitators