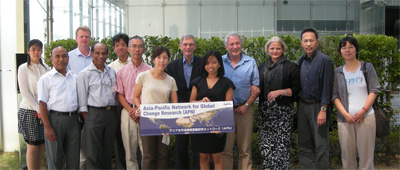 As climate issues are becoming more relevant and pressing these days, the APN is conducting a two-year Synthesis Activity on APN and Climate Change: Perspectives from Asia and the Pacific, which officially kicked-off in a Scoping Meeting held last year at the APN Secretariat in Kobe, Japan. Following that successful Meeting, the APN convened its First Authors' Workshop on 25-27 August 2010 also in Kobe, Japan. The Workshop aimed to come up with a draft Synthesis Report and address the issues that were raised in the last year's Scoping Meeting.
Synthesis Activity Overview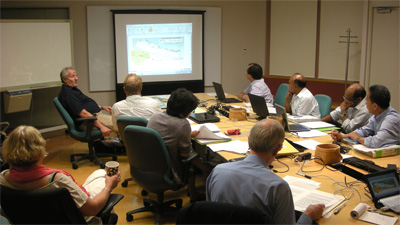 This APN activity is part of its stronger effort to contribute, from the science perspective, to the development of policy options for appropriate responses to global change that will also contribute to sustainable development. Fifty six (56) projects undertaken by the APN in climate-related research and capacity development over a period of 10 years were synthesised by the Climate Synthesis authors. The current Climate Synthesis is the third APN synthesis activity. The two previous syntheses are on "Land-Use Cover Change: An Initial Synthesis (2003)" and "Global Change and Coastal Zone Management: A Synthesis Report (2004)" The latter synthesis resulted in a number of citations in the Intergovernmental Panel on Climate Change (IPCC) Fourth Assessment Report (AR4) as well as the publication of APN's first book on "Integrated Coastal Zone Management" published by Springer in 2006.
Workshop Output
In the draft Synthesis Report, the authors identified knowledge gaps and issues as well as provided recommendations and knowledge for policy- and decision-making relating to climate in the Asia-Pacific. In addition to the draft Synthesis Report, the APN will also publish an Academic Book expanding from the contents of the Synthesis Report. The authors devised draft structure and contents of the Book entitled: Climate in Asia and the Pacific: Security, Society and Sustainable Development . The Synthesis authors also identified potential authors for the Academic Book who are experts in their respective fields. The Synthesis Report and Book are aimed to be published in 2011 and 2012, respectively; prior to the publication of IPCC AR5.
Synthesis Authors
The Workshop was attended by a number of reputable scientists in the region namely: Dr. Ailikun from International Program Office Monsoon Asia Integrated Regional Study (MAIRS) of Atmospheric Physics, Chinese Academy of Sciences, China; Dr. Wenjie Dong from State Key Laboratory of Earth Surface Process and Resource Ecology, College of Global Change and Earth System Science, China; Dr. Lance Heath from Climate Change Institute, The Australian National University, Australia; Prof. Kanayathu Koshy from Centre for Global Sustainability Studies Universiti Sains Malaysia; Dr. Rodel Lasco from World Agroforestry Centre, Philippines; Dr. Michael Manton from School of Mathematical Sciences, Monash University, Australia; Dr. James Salinger from School of Environment, University of Auckland, New Zealand; Dr. Madan Lall Shrestha from Nepal Academy of Science and Technology, Nepal; and Dr. Linda Anne Stevenson from the APN Secretariat. Dr. Srikantha Herath from United Nations University, Japan was not able to join the Meeting but provided his input remotely.
On behalf of the APN Secretariat Director who was on a mission, Mr. Yukihiro Imanari, APN Executive Manager provided opening remarks and welcomed the participants. Mr. Imanari, together with Mr. Erdenesaikhan Nyamjav (Programme Fellow) and Ms. Kristine Garcia (Coordinator), provided assistance to Workshop participants.