Bonn, 8 November 2017 — APN attends the 23rd Conference of the Parties (COP23) to the United Nations Framework Convention on Climate Change (UNFCCC), 6-17 November 2017.
COP23 side event "Evidence-based Decision Making: Strategic Funding of Climate Change Research in Thailand" was held on Wednesday afternoon, 8 November, 13:00 – 15:00 at the Thailand Pavilion. The event was organized by Dr. Monthip Sriratana, Director, Climate Change Research Strategies Center, National Research Council of Thailand (NRCT) with panel members from the Asia-Pacific Network for Global Change Research (APN), China's Ministry of Science and Technology, Stockholm Environment Institute (SEI) and United Nations Development Programme (UNDP).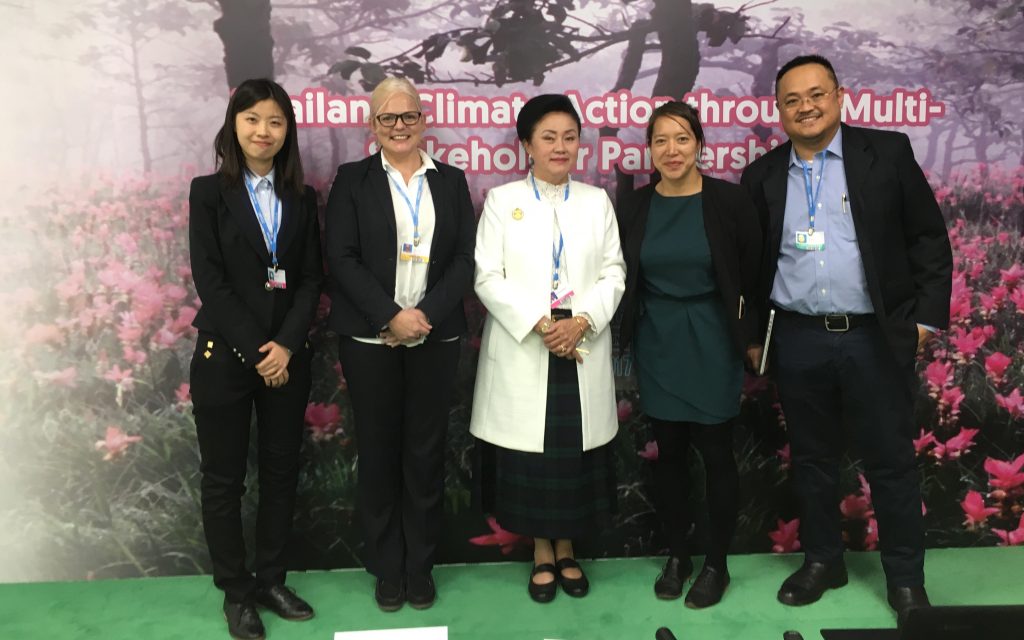 The focus of the event was on evidence-based decisions from the perspective of Thailand. Thailand's decision makers are asking for more focused, relevant and high-quality information to help them make informed decisions on climate change policy and strategies. NRCT, in cooperation with its partners, developed a National Climate Change Research Strategy in 2013 to help address decision makers' concerns. The Strategy has just been updated for another three-year period. Dr. Sriratana, who is also APN's national Focal Point for Thailand and Chair of the APN Steering Committee, presented on the rationale behind developing Southeast Asia's first national climate change research strategy and described the Strategy's main elements. She then described how Thailand is adjusting its national governance structure to strengthen both the relevance and impact of research, including climate change research, and how she expects this to impact climate change research in the future.  Panel members from APN, China, SEI and UNDP offered their views based on their organization's/country's experience in climate change research and suggested options for Thailand and countries in a similar position to most effectively respond to decision makers' needs for focused, appropriate and actionable climate change research.
Following a question and answer session, the moderator wrapped up with the following key points:
Research is key for the NAP as it should be based on the best available science (as per the LEG Technical guidelines). The NAP relies heavily on solid vulnerability assessments, climate scenarios, economic analyses, appraisal and development of adaptation options).
Strong institutional anchoring (best practice from Thailand) is key and the Government should be engaged from the beginning.
There could be "research champions" to advocate for the need for more investment in research for policy making.
The access to users and understanding the need for information for the NAP must also be assessed.
South-South cooperation and regional cooperation approaches are a good way forward to pull resources together and exchange knowledge.
Capacity gaps are a key challenge. Capacity building is crucial both for functional skills (for instance communication project development) and technical skills (training young scientists and evaluating impact to avoid maladaptation) at local and national level.
There should be a focus on developing policy-relevant research.
Funding gaps are also a major barrier to conducting research activities on climate change.
UNDP supports research at all levels (national, local, sectoral) and both end users by raising awareness and training them to understand, and scientists through support to curriculum development and MoUs with Universities and research Institutes.