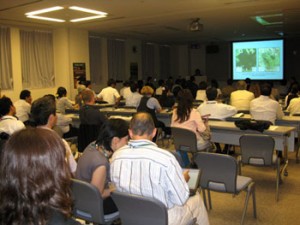 Committed to active engagement in strategic biodiversity events, the APN attended the public debate on biodiversity conservation in human influenced areas that convened in Yokohama, Japan on 15 June 2010. The International Tropical Timber Organization (ITTO), the International Union for the Conservation of Nature (IUCN), and the Japan International Cooperation Agency (JICA) hosted this event as a contribution to the debates leading to the Convention on Biological Diversity 10th Conference of the Parties (CBD COP10) to be held in October 2010 in Nagoya, Japan and under the framework of the International Year on Biodiversity, 2010. About 70 representatives from environmental agencies, interested non-governmental organisations (NGOs) and experts in Japan participated in the event.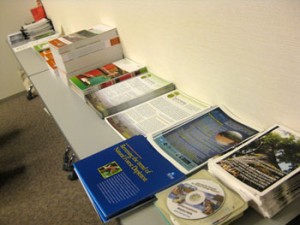 APN Secretariat Executive Science Officer, Dr. Linda Anne Stevenson and Programme Officer for Communications and Development, Ms. Perlyn Pulhin, used the opportunity to identify potential resource persons for an International Seminar that APN is organising in September 2010. They also showcased the APN biodiversity-related activities during the Open Forum and promoted its programmes through dissemination of information materials. Dr. Stevenson and Ms. Pulhin liaised with biodiversity experts for future partnerships noting that APN just launched a focussed activity on Forestry and Reducing Emissions from Deforestation and Forest Degradation (REDD)-Plus under Theme 2 of its scientific research agenda on Ecosystems, Biodiversity and Land Use.
Highlights of the event were as follows: 1) discussion on the ITTO/IUCN Guidelines for the conservation and sustainable use of biodiversity in tropical timber production forests; 2) sharing of relevant examples and best practices on biodiversity conservation in human influenced areas; and 3) discussion on the opportunities for biodiversity conservation in human influenced landscapes.
Representatives from the main organisers gave welcome address: Mr. Emmanuel Ze Meka, ITTO Executive Director; Mr. Naoya Furuta, Global Policy Unit, IUCN Senior Officer; and Mr. Shinji Yoshiura, JICA Yokohama International Centre Director General. Presentation from experts followed.
An overview of the 'ITTO/IUCN Guidelines for the conservation and sustainable use of biodiversity in tropical timber production forests' was presented by Dr. Jeffrey Sayer, visiting professor at James Cook University, Australia and former Director of Center for International Forestry Research (CIFOR) and of the IUCN Forest Conservation Programme.
An expert from Burung Indonesia, Ms. Ani Mardiastuti reported about 'Conserving and Restoring Forest Habitat in Production Forest: Harapan Rainforest'.
In his presentation, Ian Rowland, Tropical Forest Conservation Manager, The Royal Society for the Protection of Birds (BirdLife International, United Kingdom), cited a good example of forest restoration concessions in Indonesia.
Ms. Fumiko Nakao, Fellow at United Nations University, Institute of Advanced Studies (UNU-IAS), presented on 'Satoyama Initiative: conserving biodiversity in human influenced landscapes'.
A facilitated debate on best practices to promote biodiversity conservation in human influenced areas ensued. It was stressed that there are a number of challenges in implementing the ITTO/IUCN guidelines and among these are: 1) need for greater and more creative promotion and dissemination mechanisms; 2) reaching people who are not yet "converted"; 3) need to consolidate, simplify or cross reference information as there are too many guidelines available that are cross-cutting; 4) collaboration with other organisations to help attract peoples' attention.
It was also emphasised that there is a need to improve understanding of how and why deforestation happens and it is important to ensure that both natural and residual forests are protected as they are necessary for biodiversity conservation. Local people directly benefit from forest resources. However, people tend to convert logged over forests and this conversion leads to biodiversity loss.
The debate also raised whether the location of the forests and the type of forests are more important than the size and mix for biodiversity conservation. Looking at high-value resources and service, it was noted that processed products warrant that community values the forests. To ensure short and the longer term forest biodiversity conservation, community involvement is crucial; but without assured benefits, it would be difficult to engage the community.
There is great value to lessons learning and sharing on sustainable use of natural resources for biodiversity conservation. These lessons include issues such as depopulation of areas, Satoyama-like landscapes in Japan as an example. It is important to address the challenge in information generation and sharing and how this is faced in different cultures and countries to improve and sustain such ecological-production landscapes and biodiversity altogether.
Satoyama-like landscapes and their contribution to wider biodiversity conservation beyond just the traditional protected areas and species conservation efforts have great potentials and should be looked into more closely. This kind of practice could link up fragmented ecosystems and address pressures from development.
Closing remarks was given by Mr. Kikuo Nakagawa, Director General, Global Environment Department, JICA.
For more information, you may log on to:
http://www.itto.int/en/workshop_detail/id=2341