Bonn, 10 May 2017 — At the ninth meeting of the SBSTA Research Dialogue (RD 9) held during the 46th session of the Subsidiary Body for Scientific and Technological Advice (SBSTA) of the United Nations climate convention UNFCCC, APN highlights the importance of sustained investment and support in systematic observations for sound policy support.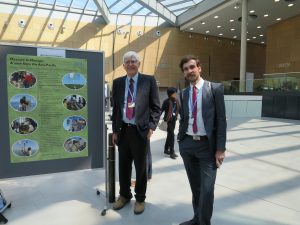 Dr. Andrew Matthews, APN Steering Committee member, stressed the need for countries to commitment to the long-term investment in terms of finances and capacity in data collection, calibration, maintenance and computing, especially at a time when cost of data collection and management has become a pressure for governments, and in some cases with the misconception that data needs have been satisfied.
He urged countries to invest in localizing existing knowledge and technology for local use and to provide support and training on data recovery and digitalization.
The talk by Dr. Matthews can be found on YouTube at https://youtu.be/7B_JBy9bzwk?t=48m5s
More information about the Research Dialogue: http://unfccc.int/science/workstreams/research/items/10154.php