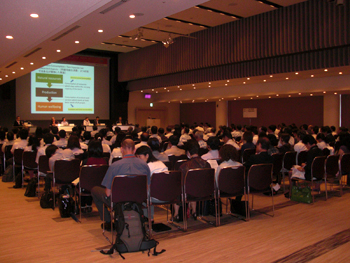 Following its participation in the First International Forum for Sustainable Asia and the Pacific (ISAP) in 2009, the APN participated in the 2nd ISAP which was held on 12-13 July 2010 in Yokohama, Japan to further strengthen the ties/collaborations that were established during the 1st ISAP and explore the new emerging issues in the field of global change research, capacity building/enhancement and policy development. Representatives from the APN Secretariat, Mr. Tetsuro Fujitsuka (Director), Ms. Kristine Garcia (Coordinator) and Ms. Lizhier Coralde (Programme Fellow for Communications and Development) participated in selected open sessions, that convened in parallel with the Expert Workshops and relevant international Network Meetings, and used the opportunity to communicate with potential partner organisations.
The APN was successful in further raising its profile and visibility by displaying and disseminating information materials in a designated exhibition booth. The APN exhibition booth attracted a number of participants which included students, scientists, non-government organisations and other related-organisations. The APN Secretariat was also able to meet few APN current and former project collaborators and project leaders. Furthermore, one of the presenters, Prof. Kazuya Yasuhara , Professor Emeritus of Ibaraki University, mentioned and acknowledged the contribution of APN in the region particularly on climate change adaptation initiatives.

ISAP, based on the global networks and research results that IGES has developed so far, promotes diverse discussions on sustainable development in Asia and the Pacific, and provides opportunities to boost information sharing and strengthen collaborative efforts with experts and related organisations. Being held once a year with timely theme, ISAP aims to develop innovative and strategic policy proposals towards a sustainable Asia and the Pacific.
This year, ISAP theme was "Sustainable and Low-Carbon Development and Innovative Pathways for Asia-Pacific". This umbrella theme included several sub-themes under sustainable development namely climate change and sustainable consumption and production.
Prof. Hironori Hamanaka, Chair of the Board of Directors of IGES delivered his opening remarks and welcomed the participants on the first day of the Symposium. This was followed by speeches from Mr. Shigefumi Matsuzawa, Governor of Kanagawa Prefecture and Mr. Kazuhiko Takemoto, Vice Minister for Global Environmental Affairs, Ministry of Environment, Japan. The Opening Session also featured keynote speeches on long-term perspectives to build a low carbon Asia-Pacific and "Establishing an Asian-style cooperative system towards a Low-Carbon Asia-Pacific 2020"
Recent developments on the issues that were raised during the 1 st ISAP which included low carbon-economy, biodiversity, green consumption, reducing emissions from deforestation and degradation (REDD), biofuels, co-benefit approach and capacity development were also discussed in the Forum. Following Copenhagen Accord at the Conference of the Parties at its fifteenth session (COP15) held in Copenhagen in December 2009, Reducing Emissions from Deforestation and Forest Degradation, Conservation of Forest Carbon Stocks, Sustainable Management of Forests, and Enhancement of Forest Carbon Stocks (REDD-plus) was one of recent developments that were highlighted in Day 1.
 Another important topic that was highlighted in Day 2 of the Forum was biodiversity which was the focus of the session " Harnessing Biodiversity: Strategic policies and concerted action". Discussions included the Conference of Parties to the Convention on Biological Diversity (COP10 CBD) to be held in Nagoya, Japan in October 2010; ecosystem services and biodiversity challenges which talked about, as an example, the sub-global assessment of Satoyama and Satoumi in Japan; and the international cooperation which focussed on Intergovernmental Science and Policy Platform on Biodiversity and Ecosystem Services (IPBES).
Not only that the Forum demonstrated the alignment of the APN Science Agenda with the developments in global change research, it also showed the relevance of the APN activities particularly the 2010 Special Call for Proposals for Focussed Activities ( Forestry and REDD-Plus and Resources Utilisation and Pathways for Sustainable Development) which are now on its review stage. The Forum is also very useful for the APN in planning its future activities in the region.
Asia-Pacific Perspectives on Future Climate Regime
This Open Session aimed at providing updated information on post-Copenhagen development to the audience and discussing various perspectives on the future climate regime from Asia-Pacific perspective. The Session started with a brief introduction by the moderator to explain the objective and the outline of the session. The first presentation provided an overview of post-Copenhagen development and put the Session in the context of the current development of international negotiations on future climate regime. The following two presentations introduced China's and Indonesia's expectations for the future climate regime. The final presentation touched upon comparability of mitigation efforts/actions among developed and developing countries.
Accounting for Co-benefits: Toward stronger climate change, development, and air pollution policies in Asia
This session aimed to familiarise the audience with diverse views of co-benefits and understand how accounting for different co-benefits could strengthen climate change, development, and air pollution policies in Asia. The session also introduced plans for a Co-benefits Partnership for Asia that will contribute to the development, sharing, and application of knowledge on co-benefits.
REDD+: Progress, Challenges and Ways Forward: From the local to the global
Parties to the UNFCCC are currently attempting to reach agreement on a decision for enhanced national/international action for developing countries to reduce emissions and enhance carbon stocks in their forest sectors. However, history shows us that slowing or halting deforestation is not a simple task. The objective of this session was to increase understanding of progress towards a global decision on REDD+ and to extract lessons from national REDD+ preparations and REDD+ demonstration activities.
Mainstreaming Adaptation: Linking research and actions on the ground
This plenary session brought together various members of the UNEP Asia Pacific Adaptation Network and other important players in national level policy research and policy decisions and practitioners to divulge into the issue of how networking of service providers (research institutions and knowledge generators) and service clients (governments at various levels and developmental agencies) can be effective in initiating pragmatic adaptation policy actions where they are needed most. The session followed the style of a panel discussion.
Transitioning to Sustainable Consumption and Production: Opportunities for Asian prosperity on a finite planet
The session identified some of the major shortcomings of the current approaches to a low-carbon society. It indicated key entry points for more effective policy approaches to sustainability and discuss what factors can facilitate a sustainability transition of the Asia-Pacific region. One of the messages came out of the discussion was that development strategies relying mainly on technological progress and efficiency improvements are infeasible. Shifting society to sustainability will require changes also in lifestyles and consumption patterns. To make that happen there is a need to critically examine the factors that shape our aspirations and our perception of a good life, and the structures that constrain and enable our lifestyle choices and habits.
Coping Strategies for Groundwater Under Threat
It is said groundwater is under stress but we do not know much what really happens on groundwater resources in different regions in Asia. This session aimed to facilitate the understandings on the state of groundwater problems, measures taken and future challenges through panel discussion.
The Challenges and Opportunities for Improving Corporate Environmental Management in Developing Asia
The fast growth of economy has caused various problems on the environment in developing Asian countries. Corporate environmental management (CEM) must be improved dramatically to fill up the large gap in traditional pollution control and the mitigation of carbon emissions. By picking up China and India as the representatives from developing Asia, this session briefly introduced current CEM practices in these two countries, and discussed policy needs for enhancing CEM from a future perspective.
Can Biofuels Contribute to Building a Sustainable Society?
This session discussed issues relating to the sustainability of biofuels based on recent research. Discussed topics are: food-fuel conflict, land use change, analysis of stakeholder viewpoints, and specific issues relating to Japan and other Asian countries.
For more information, please visit this link: