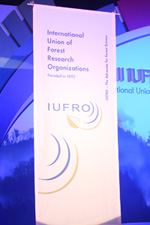 Committed to strengthening close cooperation with the key international organisations in facing the challenges in earth's sustainability and recognising the vital role played by the forest science in achieving this, APN representatives, Mr. Tetsuro Fujitsuka, APN Secretariat Director and Ms. Lizhier Coralde, Programme Fellow, joined the XXIII International Union of Forest Research Organizations (IUFRO) World Congress – "Forests for the Future: Sustaining Society and the Environment," held in Seoul, Republic of Korea, 23-28 August 2010. The congress attracted more than 2,700 participants from 92 countries.
IUFRO is a non-profit, non-governmental international network of forest scientists. Established in 1892, it is one of the oldest and largest international institutions with a membership of about 15,000 forest scientists, government officials and experts and 700 organisations from 110 countries. The network promotes global cooperation in forest-related research and enhances the understanding of the ecological, economic and social aspects of forests and trees. It disseminates scientific knowledge to stakeholder and decision-makers and contributes to forest-policy and on-the-ground forest management.
IUFRO congresses are held approximately every five years and in 118 years, it was only the third time it was held in Asia. Each congress was organised around a specific theme and serves as an opportunity to discuss, exchange, and disseminate scientific knowledge within and beyond IUFRO's global network. APN maximised this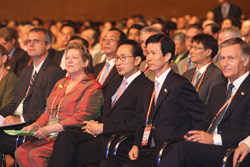 opportunity to share its recent findings and achievements especially in the wide area of forest research and to encourage more scientists to get involved in APN activities.
At the opening ceremony, the participants were welcomed by the President of Republic of Korea, Hon. Lee Myung-bak. The event consisted of keynote speeches, 15 sub-plenaries, 150 technical sessions, 1,048 poster sessions, side events, and a trade and exhibition. On the fourth day, field trips were organised so participants could experience innovative forest-related projects around the country.
Plenary Sessions

The first keynote speech was delivered on Monday morning by a famous Korean poet Ko Un entitled "Forest Is Short; Desert Is Long". He called for the development of a Human Charter for the Forest to prevent future damage against the forests and stressed that voluntary institutions are urgently needed to ensure that such a declaration does not become a mere slogan. He concluded stating that 'nations of tomorrow' will succeed as nations, only if they are 'nations of forest'.
On Tuesday morning, Frances Seymour from Center for International Forestry Research (CIFOR) delivered her speech entitled "Forests, Climate Change, and Communities: Making Progress up the Learning Curve". Her discussion focussed on the past and future challenges of forest and communities research and on how to effectively integrate climate change into future studies. She emphasised that there is much to be gained by investing in global comparative studies, but because no single organisation has the capacity to undertake such an operation on its own, collaborative research must be pursued now more than ever.
José Joaquín Campos Arce of Tropical Agriculture Research and Higher Education Center (CATIE) gave his keynote speech on Wednesday morning about "Integrating Scales and Sectors to Foster Sustainable Livelihoods, Forests and Landscapes." He highlighted that system approaches are necessary to address the complex set of challenges facing the world, as well as achieve sustainable development, which requires interdisciplinary multi-stakeholder platform, mechanisms and intense coordination. He concluded that social and ecological resilience are interdependent and the key for sustainable livelihoods, forests and landscapes.
On Friday morning, Elinor Ostrom, 2009 Nobel Prize Awardee in Economics, delivered her keynote speech entitled "The Potential Role of Communities in Sustainable Forest Resources". She explained that there are multiple factors affecting forest conditions, thus a simple management model is neither useful nor satisfactory. She then advised not to use static solution or "paper park" for conservation purposes. She said that bridging communication between forest users and authoritative agencies enhances cooperation and results to better conservation. She emphasised the feasibility of multidisciplinary and the importance of careful designs, proper training and consistency in conducting research.
Peter Shaw Ashton from Harvard University delivered a speech on Saturday morning about "The Disastrous Trajectory of the Rain Forests: Research Imperatives". He explained that intact forests only remain on steep slopes and with limited access or agriculture potential. The lowland Dipterocarp forests or region's most productive were reduced dramatically. He attributed this transformation to low-cost energy. He explained that although temperate forests which underwent the same changes have since re-grown, tropical forests are unlikely to revive. He also emphasised that tropical forest diversity conservation provides resilience to invasive species outbreaks. In order to retain this protection against pathogens, small pockets of protection may be enough but must be placed in areas under high threat.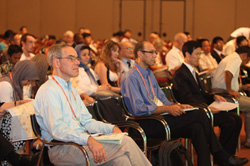 Sub-plenary Sessions
Participants were given opportunities to listen to presentations and have a dialogue with the experts in 15 sub-plenary sessions related to forest health and restoration, biodiversity, and climate change specifically on the following topics: Forest Health in a Changing Environment; Keep Asia Green: Rehabilitating and Restoring Forest Ecosystems in Asia; Biodiversity, Climate Change and Forestry – Perspective of the Collaborative Partnership on Forests; Promoting Urban Forest Services in Partnership Between Scientists and Communities; IUFRO Award Winners – Next Generation; Can Forestry and Forest Sector Activities Contribute to Mitigating Climate Change?; IUFRO Directors Forum: Forest Monitoring in Times of Climate Change; Forest Biomass Utilisation for Bio-Energy: Technology, Economics and Environment; Conservation and Sustainable Use of Forest Genetic Resources; Enhancement of Service Life of Wood in an Environmentally Conscious Global Society; Agroforestry: The Way Forward; New Frontiers of Forest Economics; Reading the Pulse of Forest Science – IUFRO Priorities 2010-2014; An Honest Conservation about Decentralisation and Forest Livelihoods in a Globalised World; Forest Biodiversity – The Key to Healthy and Resilient Forests. More detailed abstracts of the presentations can be found on the congress' book – "The International Forestry Review".
The technical and poster sessions were focussed on the congress's nine thematic areas specifically on: forests and climate change; biodiversity conservation and sustainable use of forest resources; forest environmental services; Asia's forests for the future; forest products and production processes for a greener future; emerging technologies in the forest sector; frontiers in forest and tree health; forests, communities and cultures; and forests, human health and environmental security. The best posters were selected from each of the nine congress' themes and were given recognition in their respective divisions and announced at the closing ceremony. Abstracts of the presentations are also available in the congress' book.
Congress Resolution
At the closing ceremony, the 2010 Congress Resolution was presented, stating that IUFRO will strive to promote the themes of: forests for people; climate change and forestry; bio-energy; forest biodiversity conservation; forest and water interactions; and forest resources for the future. The resolution also commits IUFRO to: Improving communication within and outside IUFRO; Expanding work on the science-policy interface; Renewing and strengthening forest monitoring activities; Expanding the IUFRO membership; and Promoting high-quality forest-related research and interdisciplinary cooperation.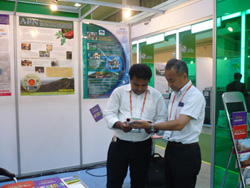 APN Representation
The APN participated in the Congress' Trade and Exhibition and showcased its recent activities and findings in forest science. Since it was launched, APN has been funding a wide range of forestry–related projects in the region under its scientific research and capacity development activities. The APN has provided over US$ 1.3 million to around 25 projects on 'Forestry' and will continue to support projects on this area. In much anticipation of the upcoming International Year of Forests in 2011 as declared by the United Nations General Assembly, the APN just concluded a Special Focussed Call on Reducing Emissions from Deforestation and Forest Degradation, Conservation of Forest Carbon Stocks, Sustainable Management of Forests, and Enhancement of Forest Carbon Stocks (REDD+).
Especially for this event, the APN Secretariat produced a poster listing its completed and on-going forestry-related projects, a press release, 'APN Takes action for Sustainable Forestry' and a bulletin explaining more in detail the projects listed in the poster. The APN distributed flyers and CD-ROMs containing all the recent APN information materials and publications.
The XXIV IUFRO World Congress will be held in Salt Lake City in 2014.