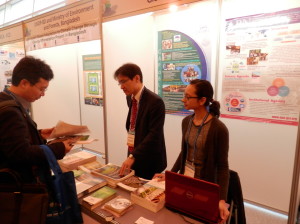 APN was represented at the 3rd Asia-Pacific Climate Change Adaptation Forum in Incheon, Republic of Korea, from 18–20 March 2013.
The main theme of the forum was "mainstreaming adaptation into development," with a focus on key selected topics, such as adaptation strategies for policy and planning; capacity building strategies for adaptation; adaptation in the context of different systems and places, adaptation for sectors; critical and neglected groups, and knowledge management, among others.
The Forum was organized by Asia Pacific Adaptation Network (APAN) and hosted by the Korea Environment Institute (KEI) in association with the Korea Adaptation Center for Climate Change (KACCC). Co-organisers are the United Nations Environment Programme (UNEP), the Institute for Global Environment Strategies (IGES), the Regional Resource Centre for Asia and the Pacific (RRC.AP), and the Stockholm Environment Institute (SEI).
Dr. Akio Takemoto, APN Secretariat Director, spoke on Panel 2.4, "Strengthening capacities to access and manage adaptation knowledge." He provided an overview of APN and its adaptation activities, and shared his views on the key elements for successful scientific capacity development programmes on adaptation, which include "programme continuity; partnerships for sharing financial, human and knowledge resources; customizations based on country needs; and training local trainers."
On Day 3, Dr. Takemoto gave a talk on Panel 6, "Knowledge management for adaptation," on organizing and sharing relevant and credible information: progress and problems. He shared best practice examples of how to organize and share information for the benefit of climate adaptation at the community level, including an APN capacity-building project for local community in Philippines using future climate simulation model. The project is entitled "Capacity Development on Integration of Science and Local Knowledge for Climate Change Impacts and Vulnerability Assessments (CIA2009-02-Pulhin)."
With regard to data collection and utilisation for implementing adaptation, he outlined the needs and gaps identified at the climate adaptation scoping workshop held in Kobe, August 2012:
capacity development for data collection and data mining;
development of common data formats;
integration of downscaled data and local data;
high-resolution downscaling that is sector-specific and suits user needs;
capacity development of users, including individuals and institutions.
Dr. Takemoto pointed out the importance of placing themselves in the position of users such as practitioners, policy makers and stakeholders, if scientists and researchers are to organize and share scientific information in a credible way. Meanwhile, common data formats, calibration and validation of regional climate models and improvement of communication skills of scientist and practitioners, among others, are essential in this regard.
Additionally, he emphasised the critical role of local governments in the two-way communication of scientific information on climate change between the local communities and the national government, therefore it is also necessary to enhance their capacity.
APN's presence at the Forum also includes a booth exhibition in the Market Place area, where we showcased our latest activities and publications on climate change adaptation.