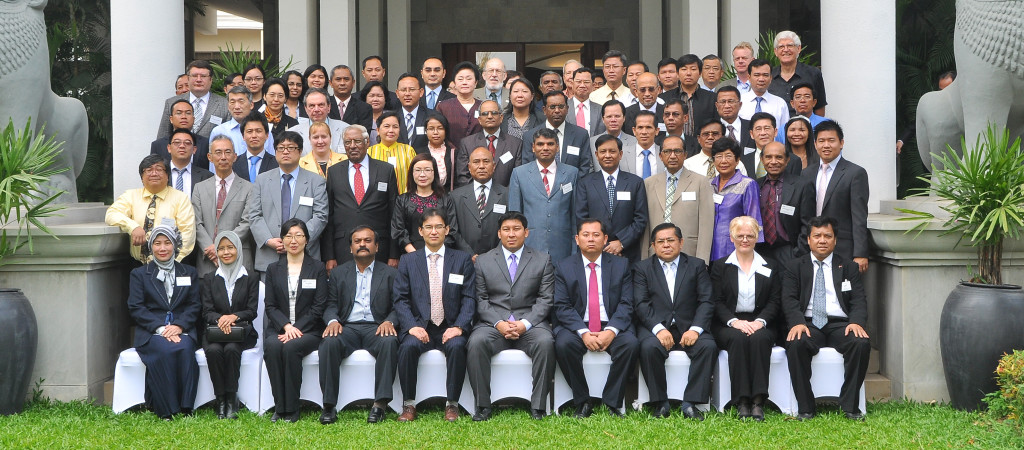 21 March 2014, Siem Reap, Cambodia —APN's top decision-making body endorsed new and continuing activities for implementation in fiscal year 2014 (April 2014 to March 2015) that will further enhance regional efforts to tackle the multifaceted challenges of global environmental change in the Asia-Pacific region.
APN's Inter-Governmental Meeting (IGM), at its 19th annual meeting hosted by the Royal Government of Cambodia, approved funding for 24 regional research projects and 12 capacity development projects based on recommendations from its Scientific Planning Group and Capacity Development Committee. These include continuing multi-year projects and new projects from the 103 proposals submitted to APN during its annual parallel call for research and capacity building proposals.
The projects span a wide spectrum of topics under the areas of interest of the 2013 Call for Proposals, and the full results of the call will be officially announced in April 2014.
A Milestone for Global Change Research
"This week's events are an important milestone in engaging the wider global change research community to deal with the consequences of global change," says H.E. Dr. Say Samal, Minister of Environment, Kingdom of Cambodia in his opening remarks. "I hope that the knowledge and experiences to be shared in this coming three-day meeting will clearly help to better underline the value of action-oriented research and holistic approaches to global environmental change that encompasses the values of science, policy and economy."
The IGM approved a number of new activities under APN's new frameworks for biodiversity and ecosystem services (B&ES), low carbon initiatives (LCI), and climate adaptation/disaster risk management (CAF), respectively.
B&ES will be a clear focus in the upcoming fiscal year, which runs from 1 April 2014 to 31 March 2015, as 23% of the approved projects are B&ES-related. The outcomes of these projects will be shared with governments and relevant stakeholders, including the Intergovernmental Science-Policy Platform on Biodiversity and Ecosystem Services — IPBES.
The APN will continue to implement activities that strengthen the science-policy interface on issues related to global environmental change, including through a science-policy dialogue to be held in Pune, India in January 2015, in collaboration with regional and international partners.
The IGM also agreed to develop a strategic framework to promote and mainstream 3R (reduce, reuse, recycle) strategies in policy-making, planning and development towards resource-efficient and resilient societies in the region. This will contribute to the implementation of the Ha Noi 3R Declaration — Sustainable 3R Goals for Asia and the Pacific for 2013-2023.
Towards a New Strategic Phase
The IGM reviewed the work to date related to strategic phase reporting and planning, and approved the proposed work plan to develop a Third Strategic Phase (2010–2015) Report and a Fourth Strategic Plan (2015–2020).
The APN's Fourth Strategic Phase coincides with the development of the Future Earth initiative, an effort to integrate and build on the work of existing global environmental change programmes of Diversitas, IGBP, IHDP, WCRP and ESSP, which have been APN's important partners.
With this background, an interactive session was organised during the IGM to look at the question of "how to increase interactions between the international research community and the APN?" where representatives from the international global change community including APAN, IAI, LoCARNet, MAIRS, NRCT and USGCRP shared their views and presented many opportunities that the APN could consider to further enhance interactions, taking into account APN's unique strengths.
"As we move towards APN's Fourth Strategic Phase, I believe it is crucial for APN to establish partnerships with other funding agencies based in developed and developing countries, in order to 'co-finance' under the common programme," says Dr. Akio Takemoto, Director of APN Secretariat.
Another interactive session, on co-financing/co-benefit strategies in global change research and capacity development, was also organised. Delegates from Bhutan, Nepal, Sri Lanka and Thailand shared useful and innovative ideas on strengthening the funding base for regional efforts to address global environmental change.
Outcomes of the discussions will be compiled and made available in the IGM proceedings to be published in summer 2014.
In addition to the above fruitful discussions, the IGM also approved plans for scientific and communication activities in the lead-up to the 20th anniversary of the APN, which may include an open science conference in autumn 2015 and related communication and outreach activities in the lead-up to the 20th IGM/SPG meeting.
Other Key Decisions
Other decisions by the IGM include:
Plans for new capacity-building activities, which include an annual Proposal Development Training Workshop to be held in Lao PDR, and a "PAN Asia Risk Reduction" fellowship programme in collaboration with START International;
Strengthened institutional basis for sub-regional activities by including relevant clauses and guidance in the APN Framework Document;
Continued engagement in high-level international forums including IPBES, IPCC and UNFCCC; and
Organisation of an expert meeting on air pollution control in urban Asia-Pacific to be held in China in later 2014, and a symposium on satoyama and sustainable development, both in collaboration with the Hyogo Prefectural Government of Japan.
Poster Session and the Mitra Award for Global Change Research
A poster session was organised on Day 1 of the IGM/SPG to provide an opportunity to Cambodian young scientists working to present their work, particularly on the largest freshwater lake in Southeast Asia—Tonle Sap, to prominent experts and policy makers attending this international gathering. Following an evaluation by participants at the IGM, "Sanitation technology for a safe environment  in floating communities in Tonle Sap Lake, Cambodia" presented by Mr. Khon Puthea, from Wetlands Work, Phnom Penh, Cambodia was awarded the "Mitra Award for Global Change Research" in recognition of his outstanding work.
The Mitra award was created to honour the late Professor Emeritus Dr. Ashesh Proshad Mitra, a prominent member of the APN and SPG member for India from 1996 to 2007, who provided excellent scientific advice to the APN, particularly for its Science Agenda.
About the 19th IGM/SPG Meeting
The 19th IGM/SPG Meeting was generously hosted by the Ministry of Environment, Kingdom of Cambodia, from 19 to 21 March 2014 in Siem Reap, Cambodia.
The meeting was attended by APN members from 18 of its 22 member countries, invited experts, and observers from the Hyogo Prefectural Government, Institute for Global Environmental Strategies (IGES), Institute of Technology of Cambodia, LCS-RNet/LoCARNet, and National Research Council of Thailand.
The following ministries, departments and institutes of the Kingdom of Cambodia were also represented at the meeting: Siem Reap Provincial Government, the Ministry of Industry and Handicraft, the Ministry of Agriculture, Forestry and Fisheries, the Ministry of Land Management, Urban Planning and Construction, the Authority for the Protection and Management of Angkor and the Region of Siem Reap (APSARA), the Royal Academy of Cambodia, the Royal University of Phnom Penh (RUPP).
For more information please contact: 
Dr. Linda Anne Stevenson, Head, Division of Communication and Scientific Affairs, APN Secretariat, email: lastevenson@apn-gcr.org
Mr. Yukihiro Imanari, Head, Division of Development and Institutional Affairs, APN Secretariat, email: yimanari@apn-gcr.org
Mr. Xiaojun Deng, Programme Officer for Communication and Development, email: xdeng@apn-gcr.org