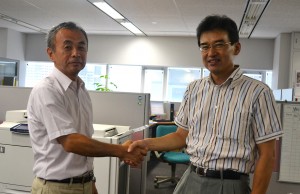 13 July 2011 – APN Secretariat Director Mr. Tetsuro Fujitsuka gives a warm welcome to his successor Dr. Akio Takemoto today in the Secretariat office in Kobe, Japan.
Dr. Akio Takemoto, who will officially join APN on 20 July 2011, currently works as Project Researcher in the Integrated Research System for Sustainability Science (IR3S) based in the University of Tokyo.
"I am convinced that Dr. Takemoto will bring greater momentum into the APN's efforts of enabling research and capacity development, as well as strengthening linkages between science and policy in the Asia-Pacific region," says Mr. Fujitsuka.
Mr. Fujitsuka will move to the Ministry of the Environment Japan in Tokyo as the Director for Private Sewage System on 19 July 2011, after working for three years as the APN Secretariat Director and having overseen the successful conclusion of APN's second strategic phase and steered the secretariat for a robust start of a new strategic phase.
Mr. Fujitsuka also wants to take this opportunity to thank all APN colleagues and friends for their committed support and active involvement in APN's programmes and activities during the past years.