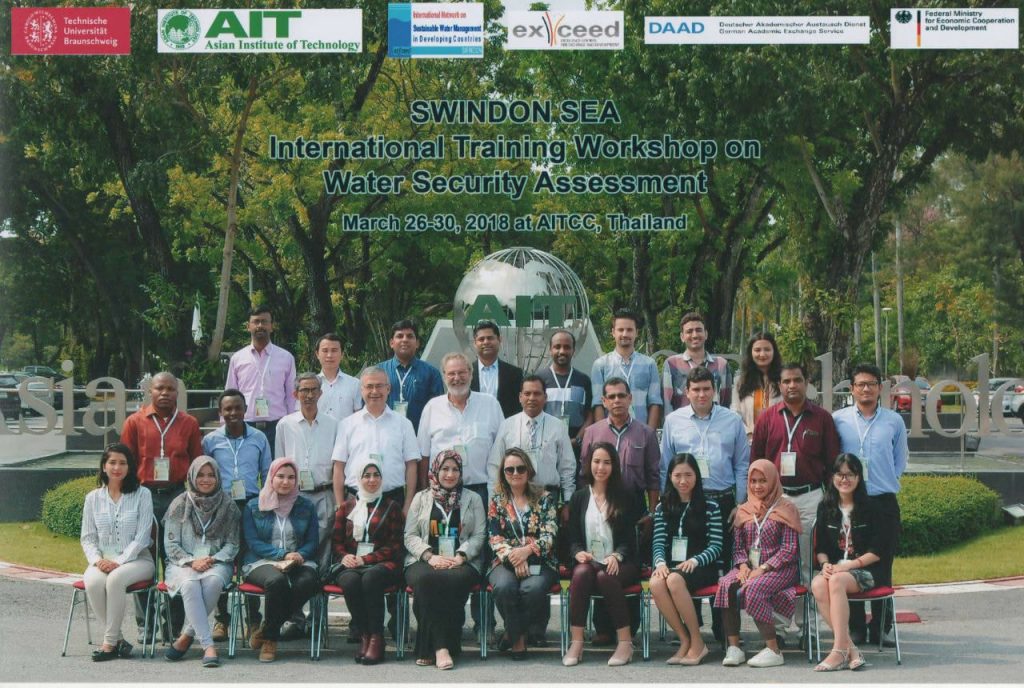 By: Dr Victor Shinde, Department of Water Engineering and Management (WEM), Asian Institute of Technology
30 March 2018, Bangkok — The Asian Institute of Technology (AIT) conducted a training workshop for postgraduate students and faculty on the topic "Water security assessment" from 26-30 March 2018 at the AIT Conference Centre. The main objective of the workshop was to provide the participants with hands-on training on how to measure water security quantitatively.
The workshop was based on the outputs of an APN supported project "Developing an operational water security index, and demonstrating its application in diverse regions in Asia". The project developed a generic framework to evaluate water security at basin- and city-scales and applied it in India, Thailand and Viet Nam.
The participants of the workshop came from 13 countries—Brazil, Colombia, Egypt, Ethiopia, India, Indonesia, Morocco, Nepal, Nigeria, Pakistan, Tunisia, Turkey, and Viet Nam.
The workshop featured a mix of classroom presentations, group exercises and a field visit. The trainers for the workshop included Dr Victor R. Shinde (AIT) and Dr Devesh Sharma from the Central Rajasthan University, India, with support from the team leader of the project Prof. Mukand Babel. In the last session of the workshop participants discussed the potential avenues to adopt the framework for water security in their own research and practice.
The workshop was generously supported by the DAAD supported initiative Exceed Swindon network.
"I have attended a few courses and training workshops on water-related issues but this one stands out for me as it approached water security assessment from multiple dimensions. My objectives of applying to participate in the program were fully achieved. I am now equipped to do an assessment of water security of my city. Thanks to the AIT team and special thanks to Exceed-Swindon Network for this opportunity"
— Stephen Akintayo (PhD student from Nigeria)
"In the beginning, I just had a little understanding of water security although I had used it in my doctoral study. Your workshop extended my realization on the importance of this topic. The cumulative outcome of this workshop has contributed a better understanding of different dimensions of water security assessment and increased my knowledge about it. I wish such wonderful workshop for other regions in the world too. My special thanks to Prof. M.S. Babel and Dr Victor and also, his team and all participants."
— Dr Fatma Akl (Post-doctoral fellow from Egypt)