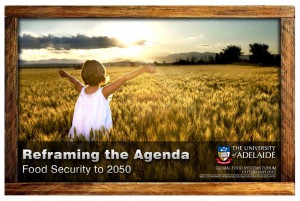 The University of Adelaide presents unique challenges and opportunities face Australian and global food systems – particularly as global demand for food and resource-based products grows and diversifies in the face of limited natural resources and slowdowns in agricultural Research and Development investment.
"Reframing the Food Security Agenda, A National Forum on Food Security to 2050" will be held on 13th February 2012 at the National Wine Centre, Adelaide.
This forum will serve as a catalyst to inform and influence researchers and research decision-makers on how to foster the development of cross-disciplinary Research, Development & Extension which will shape economic decision-makers and policy-makers dealing with challenges facing local and international food systems and how to design effective policy responses.
For more information and registration: http://economics.adelaide.edu.au/events/food-security/