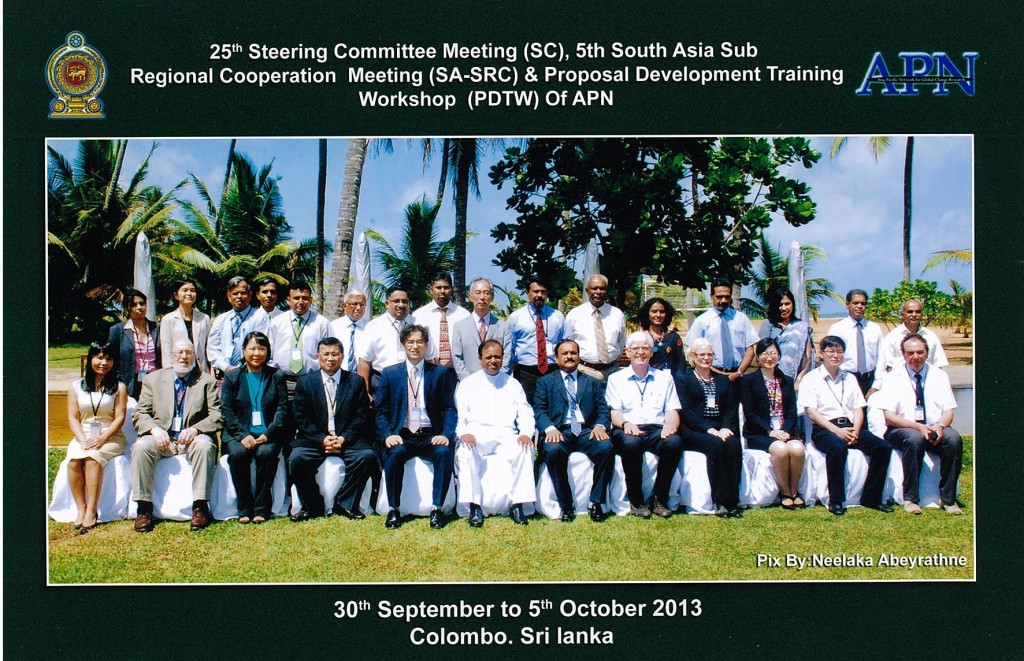 Wattala, Sri Lanka, 1 Oct 2013 —The 25th APN Steering Committee Meeting discussed the progress of work and future plans for the APN in the lead up to the next fiscal year and beyond.
The two-day discussion was hosted by the Ministry of Environment and Renewable Energy, Sri Lanka from 30 September to 1 October in Colombo, Sri Lanka chaired by Mr. Basnayake Mudiyanselage Uthpala Dayananda Basnayake, APN national Focal Point (nFP) for Sri Lanka, and participated in by members or their alternates from Bhutan, Cambodia, China, Indonesia, Japan, Nepal, New Zealand, Russian Federation, and the USA (through a video link) .
The following strategic issues were reported and discussed during the meeting:
Activities undertaken since the 18th IGM/SPG Meeting, including the progress of 2013 ARCP and CAPaBLE proposal process

Steering Committee membership changes
Report and discussion on core programmes
Report and discussion on focused frameworks

Finances and other institutional affairs

APN Opportunity Fund (AOF)

Financial affairs and APN development

Science-Policy Dialogues and the CAPaBLE Programme

Sub-regional Science Policy Dialogues
Ten-year anniversary of the CAPaBLE Programme

Regional research, evaluation and strategic planning

Regional research and capacity building on global environmental change
Third strategic phase evaluation and fourth strategic phase planning
Major events toward April 2014 and APN engagement
Fifth SA-SRC Meeting
With full support and active participation of the APN members/delegates from SA (Bangladesh, Bhutan, India, Nepal, Pakistan and Sri Lanka), representatives from the Ministry of the Environment and Renewable Energy of Sri Lanka and the APN Secretariat facilitated the fifth SA-SRC Meeting held on 1-2 October at Pegasus Hotel, Wattala, Sri Lanka.
The meeting was chaired by Mr. Faiz Ahmed, nFP for Bangladesh while Dr. Hemant Borgaonkar of the Indian Institute of Tropical Meteorology served as the assistant chair. The following issues were discussed:
Sub-Regional Cooperation
Science-Policy Dialogue in South Asia
Future SA-SRC Activities
Collaborative Activities on CCA-DRR
Way Forward for SA-SRC
Future Plans/Activities
The 6th APN SA-SRC Meeting
Before the discussion session, Ms. Taniya Koswatta, APN coordinator, gave a brief presentation about the background of Sub Regional Cooperation at the APN. This was followed by a presentation on the highlights of the 4th SA-SRC Meeting delivered by Dr. Madan Shrestha, SPG member from Nepal.
Delegates from each country shared their experience in climate change adaptation and disaster risk reduction under the item Collaborative Activities on CCA-DRR on Addressing Extreme Climate Events. Researches and best practices that cater to climate change adaptation, disaster risk reduction and loss and damage assessment were presented and emerging research gaps were identified. The plans for a science-policy dialogue in South Asia were also discussed. Institutionalising Sub-Regional committees in APN framework were also agreed upon during the meeting.
Dr. Linda Anne Stevenson gave a short presentation that aided the discussion on Evaluation of South Asia Sub-regional committee. While the item on Enhancing Communication with other regional network was facilitated by Ms. Peldon Tshering, nFP for Bhutan.
Download: SRC and PDTW Proceedings
Field Visit
Since 2008, the APN has been conducting Proposal Development Training Workshops (PDTW) in various parts of the region. On 3-5 October, 16 young scientists from South Asia participated in the PDTW which was a supplement of the SA-SRC Meeting. Prior to the workshop session, the PDTW participants visited the Imbulgodayagama Village located at the dry northwestern intermediate zone of Sri Lanka, and learned about best adaptation measures being undertaken by the community to increase crop production under climate change. These include tank rehabilitation to improve the area's water holding capacity and vermicomposting which is a community-based technology being practiced by the locals to rebuild the health and fertility of the soil.
"Our community now serves as a model of community-based adaptation to other groups as we are now able to have water and improve crop production… We are thankful for your visit to our village, people here were transformed from being passive observers to active doers," 66-year-old farmer Herath Banda, stressed in his short speech. After listening to the key messages from the locals and communing with them, the participants felt inspired by the community's adaptive capacity to climate change.
The PDTW participants also visited Yapahuwa Rock-based Kingdom, which is one of the country's unique historical sites.
Proposal Development Training Workshop
On 4-5 October, intensive interactive training composed of a series of lectures and hands-on group sessions was conducted for the young scientists to learn how to develop a research proposal for submission to the APN. The Annual Call for Proposal Process for the ARCP and CAPaBLE Programmes were also discussed and provided the participants insights into writing a good proposal for possible funding.
Participants had the opportunity to write proposals with guidance from the nFP and SPG members of their respective countries, which were presented for suggestions and feedback by fellow trainees, experts and mentors. This exercise on peer review is useful in improving the proposals and better informing participants about the criteria the APN considers during the review process.
The participants, mostly early-career scientists, felt thankful that they were provided an opportunity to develop their knowledge and capabilities in global change research through the PDTW, which is also aimed at extending knowledge on the APN proposal submission process to the APN members, as well as for new members to learn about the Annual Calls for Proposals process.
"As a young scientist, I would say all related topics were covered in the series of presentation," said Chamikka Iddagoda, Programme Assistant, Ministry of Environment and Renewable Energy of Sri Lanka, when asked how she perceived the PDTW. "We gained real knowledge about APN work and efforts to minimise the effect of climate change," added Manoj Prassana, Mangrove Specialist at the Biodiversity Secretariat, Ministry of Environment and Renewable Energy, Sri Lanka.
For inquiries, please contact Mr. Yukihiro Imanari, Head, Division of Development and Institutional Affairs at yimanari@apn-gcr.org, or Dr. Linda Stevenson, Head, Division of Communication and Scientific Affairs at lastevenson@apn-gcr.org.
By: Christmas de Guzman