1 November 2012, Kobe, Japan — Active input and constructive advice offered by APN Steering Committee members at its twenty-second meeting has provided a clear road map for APN's work towards and beyond the 18th IGM/SPG Meeting in 2013.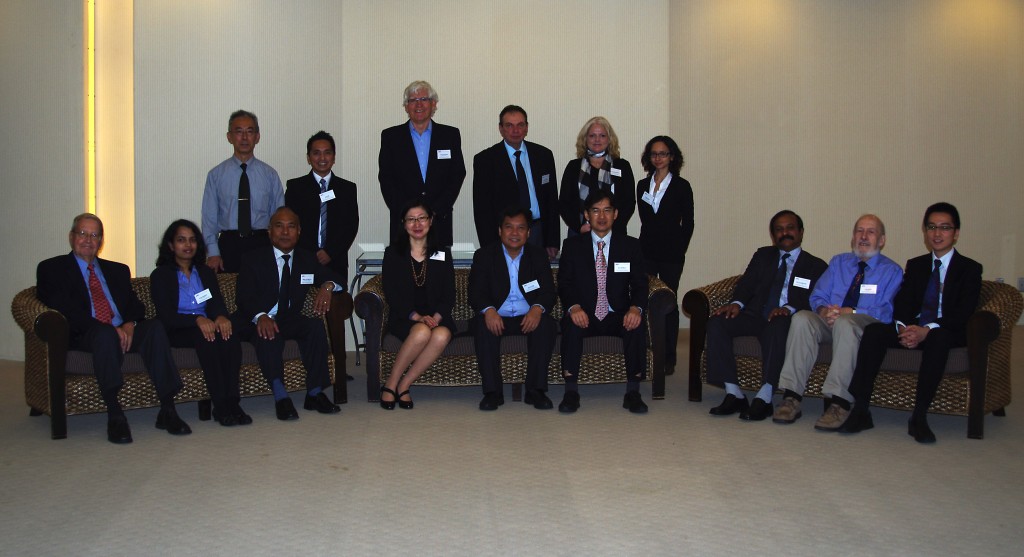 The meeting was attended by Mr. Sundara Sem, national Focal Point (nFP) of Cambodia and Steering Committee Chair, Mr. Basnayake Mudiyanselage Uthpala Dayananda Basnayake, nFP for Sri Lanka, Dr. Madan Lall Shrestha, SPG Member for Nepal, Dr. Alexander Sterin, SPG Member for Russian Federation, the following invited experts—Mr. Louis Brown, Dr. Roland Fuchs, and Dr. Andrew Matthews, as well as donor representatives Dr. Hiroshi Tsujihara, nFP for Japan and Ms. Yuko Hoshino, Office for Global Environment Research, Ministry of the Environment, Japan.
Intense discussions took place at the two-day meeting, with active contribution by all participants, particularly on the following issues:
Review of activities undertaken since the 17th IGM/SPG Meeting, including the progress of 2012 ARCP and CAPaBLE proposal process;
Review of the APN-START Science-Policy Dialogue and discussion on the way forward;
Strategies for new focused activities, including those under the following frameworks:

the Climate Adaptation Framework,
the Low Carbon Initiatives programme, and
the framework on Biodiversity and Ecosystem Services;
Engagement in and collaboration with the Future Earth initiative;
Review of subregional cooperation and strategies for further enhancing subregional communication;
Status and strategies for allocating the APN Opportunity Fund (AOF);
Report and discussions on budget and finances, communication and publications, membership development and the amendments to the APN Framework Document;
Annual operation planning and timeframe for future strategic review and planning.
The Steering Committee, whose core members are elected by the APN Inter-Governmental Meeting (IGM), works closely with the Secretariat during the intersessional period between IGMs to promote and encourage effective implementation of IGM decisions.
For inquiries about this meeting please contact Mr. Yukihiro Imanari, Executive Manager, APN Secretariat at yimanari@apn-gcr.org, or Dr. Linda Stevenson, Executive Science Officer, APN Secretariat at lastevenson@apn-gcr.org.