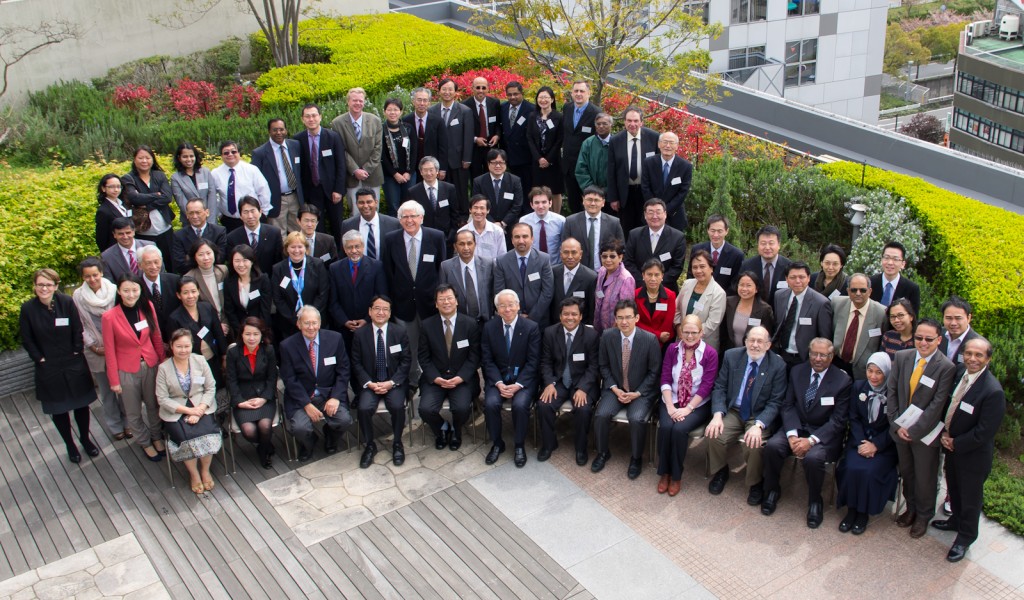 12 April 2013, Kobe, Japan — The APN 18th Inter-Governmental Meeting (IGM)/Scientific Planning Group (SPG) Meeting and associated committee meetings successfully concluded on 12 April 2013 in Kobe, Japan.
The 18th annual meeting was hosted by the Ministry of the Environment, Japan, and the Hyogo Prefectural Government, in the city Kobe, where the APN Secretariat is based, five years after the last Japan-hosted IGM/SPG Meeting was held in Kobe in 2008. APN national Focal Points and Scientific Planning Group members from its 22 Member Countries, donor representatives and invited experts participated in this annual gathering.
Observer institutions from the global change community represented include Hyogo Environmental Advancement Association (HEAA), International Centre for Climate Change and Development (ICCCAD), International Council for Science – Regional Office for Asia and the Pacific (ICSU-ROAP), Institute for Global Environmental Strategies – Kansai Research Centre (IGES-KRC), Low Carbon Asia Research Network (LoCARNet), Monsoon Asia Integrated Regional Study (MAIRS), National Institute for Environmental Studies, Japan (NIES), UNEP Northwest Pacific Action Plan (NOWPAP), Research Institute for Humanity and Nature (RIHN), United Nations University (UNU), START Temperate East Asia Regional Center (START TEA-RC), US Global Change Research Programme (USGCRP), and World Climate Research Programme (WCRP).
Opening Session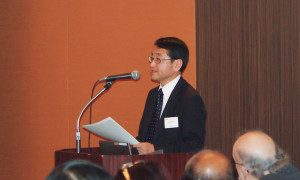 Dr. Ryutaro Yatsu, Vice Minister for Global Environment Affairs, Ministry of the Environment, Government of Japan, officially opened the Meeting. Dr. Yatsu welcomed all participants and recalled his experience as Director of the APN Secretariat from 2010 to 2012, noting that the success and international reputation of APN today could not stand without the continued support of donors, the commitment of APN members and the cooperation of stakeholders.
He gave a brief overview of the history of APN and its core programmes and introduced the recent initiatives launched by the Government of Japan in collaboration with the APN as a response to new developments in the international global change arena.
Specifically, he emphasized the role APN plays in advancing low carbon society through its Low Carbon Initiatives framework; promoting regional research and capacity development on climate adaptation, disaster risk management and loss and damage; and other activities such as the biodiversity and ecosystem services framework that will contribute to regional and international policy decision-making.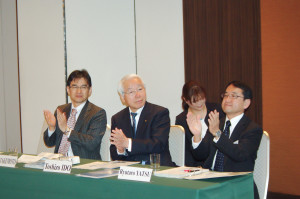 Governor Toshizo Ido of Hyogo Prefecture delivered opening address at the inaugural session. Governor Ido recalled the establishment of the APN Secretariat in Kobe in 1999, for which he personally made great efforts to bid for hosting this international network in Kobe. Governor Ido expressed his gratefulness for having the APN Secretariat in Kobe, because the city has become an important centre for international organizations working on disaster risk reduction and global change research.
He expressed his appreciations for the work undertaken by the APN, and introduced Hyogo's efforts in emission reduction, renewable energy production and disaster reduction and prevention. In this regard, he introduced Hyogo Prefectural Government's achievement of an 8% CO2 emission reduction compared with the 1992 level, and the need for encouraging emission reduction efforts in the business and household sectors. In addition, he noted that Hyogo is very active in developing sustainable sources of energy, including solar power and wind power, but recognized that being one of the largest energy producers in the Kansai region, Hyogo Prefecture must be conscious of the environment and take proactive measures to achieve sustainability for the well-being of generations to come.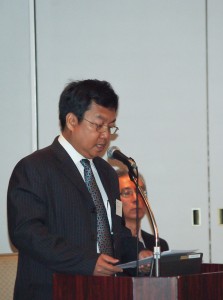 Mr. Sundara Sem, APN national Focal Point for the Kingdom of Cambodia and Chair of APN Steering Committee provided opening remarks. Mr. Sem provided a comprehensive summary of activities undertaken by the APN over the past year, especially the new initiatives approved by the 17th IGM. He particularly emphasized the increasingly important role APN is playing to promote collaborations at all levels in the region, and expressed his heartfelt gratitude to the donors, national Focal Points and Scientific Planning Group members, as well as invited experts and all stakeholders of APN for their support, cooperation and contribution throughout the year.
Dr. Akio Takemoto, Director of APN Secretariat in his opening remarks brought participants on a journey through the history of APN, highlighting the three IGM/SPG meetings held in Japan, all of which marked major milestones of APN's development. Using an example of climate change impacts on the local sake brewery industry in Kobe, he stressed the importance and timeliness to facilitate research and information sharing in the area of climate change adaptation, disaster risk reduction and loss and damage, which was expected to be a major outcome of the meeting. He also introduced other expected outcomes and expressed his hope that the 18th IGM/SPG meeting would work towards a fruitful outcome, which will better address global change challenges in the region.
Highlights of the IGM/SPG Meeting
The IGM reviewed APN's work undertaken in fiscal year 2012/13 and approved the proposed work programme and budget plan for 2013/14.
Among the major outcomes of the meeting is the approval of 23 regional research projects (including continuing multi-year projects and new proposals) for funding under the Annual Regional Call for Proposals (ARCP) programme and 16 capacity building projects under the Scientific Capacity Building/Enhancement for Sustainable Development in Developing Countries (CAPaBLE) programme. Results of the ARCP/CAPaBLE projects will be formally announced by the end of April.
A number of proposed new and continuing activities were endorsed by the IGM:
Sub-Regional Science-Policy Dialogues. Drawing from the success of the first APN-START Science-Policy Dialogue on Challenges of Global Environmental Change in Southeast Asia, similar events are proposed to be held in South Asia and Temperate East Asia, in 2014 and 2015 respectively, to promote informed decision-making on actions to reduce global environmental change.
Biodiversity and Ecosystem Services Framework. Under this framework, APN will enhance collaboration with key partners to support activities that provide the underpinning science of biodiversity and ecosystem services for policy- and decision-making, contributing to the existing needs, including, as highlighted in the outcome of the Rio+20 conference, The Future We Want.
Involvement in UNFCCC SBSTA and Research Dialogues. Over the past number of years APN has been contributing to the UNFCCC SBSTA research dialogues. This year, APN will continue to be represented and provide input on APN's work related to SBSTA's agenda, including information sharing on the technical and scientific aspects of ecosystems with high carbon reservoirs.
Joint Activities with Hyogo Prefecture. In collaboration with the Hyogo Prefectural Government, the host of APN Secretariat, APN will organize a number of international events that addresses issues of mutual concern, including on enhanced action for climate adaptation; management of shared resources (new commons); and actions towards low carbon society.
New Activities under the Climate Adaptation Framework, including Disaster Risk Management and Loss and Damage.  APN will expand its Climate Adaptation Framework and introduce new focused activities on adaption, disaster risk management and loss and damage associated with climate change impacts in the Asia-Pacific region, with expected outcomes contributing to the 19th Conference of the Parties to the United Nations Framework Convention on Climate Change (UNFCCC COP19). Regional research, capacity building and communication activities will be the three pillars of this framework.
New Focused Publications. A new publication will be published to celebrate the 10th anniversary of the APN CAPaBLE programme, through an all-round review of its achievements over the past decade drawing on successful stories and input from trainees.  A number of other publications to showcase APN's new activities are also being planned.
Interactive Sessions
Three interactive sessions were conducted during the IGM/SPG Meeting centring around the following themes: 1) climate change-associated disaster risk and loss and damage; 2) the future of global change research; and 3) integrating biodiversity and ecosystem services — strengthening interaction with international science and policy-making communities. The interactive sessions started with stage-setting speeches by invited experts from the above fields, followed by country-level perspectives shared by APN representatives and interactive panel discussions. A summary of the interactive session will be available separately.
Poster Session and the Mitra Award for Global Change Research
The poster session on Day 1 of the IGM/SPG featured activities under APN's Low Carbon Initiatives framework, and provides an opportunity for young scientists to present their latest work to the APN community. This year, thirteen young scientists from APN Member Countries currently studying or working in Japan were invited to join the poster session. Following an evaluation by  IGM participants, Dr. Joni Jupesta of United Nations University-Institute of Advanced Studies, was awarded the "Mitra Award for Global Change Research" in recognition of his outstanding poster presentation. On Day 3 of the IGM/SPG Meeting, Dr. Jupesta was invited to make an oral presentation at the main session.
The Mitra Award was created to honour the late Professor Emeritus Dr. Ashesh Proshad Mitra, a prominent member of the APN and SPG member for India from 1996 to 2007, who provided excellent scientific advice to the APN, particularly for its Science Agenda.
Launch of APN Science Bulletin 2013 and Policy Brief on Science-Policy Dialogue in Southeast Asia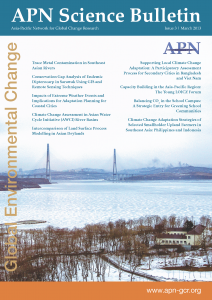 The APN Science Bulletin Issue 3 (2013) was released to coincide with the opening of the IGM/SPG Meeting. The 2013 APN Science Bulletin highlights those APN projects either funded and/or completed in fiscal year 2012/13. The Science Bulletin has three main sections: 1) Featured Articles; 2) Regional Research Projects funded under the Annual Regional Call for Research Proposals (ARCP) Programme; and 3) Scientific Capacity Development Projects funded under the CAPaBLE Programme. The Science Bulletin is available for download from the APN E-Lib at https://www.apn-gcr.org/resources/items/show/1879.
A supplement to the Bulletin will be published in early summer 2013 and will include a number of important activities supported by the APN outside its core programmes, for example, the development of Future Earth in Asia and the Pacific, Focussed activities under Ecosystems, Biodiversity and Land-Use, A series of Hyogo-funded workshops on the New Commons, among others.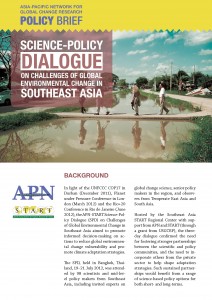 Also released in conjunction with the IGM/SPG Meeting was a Policy Brief summarizing the key messages emerged from the APN-START Science-Policy Dialogue on Challenges of Global Environmental Change in Southeast Asia held in Bangkok, Thailand in July 2012. To download the policy brief, please visit: https://www.apn-gcr.org/resources/items/show/1880.
For more information please contact: 
Dr. Linda Anne Stevenson, Head, Division of Communication and Scientific Affairs, APN Secretariat, email lastevenson@apn-gcr.org
Mr. Xiaojun Deng, Programme Officer for Communication and Development, email: xdeng@apn-gcr.org