The 8th Asia Pacific Climate Change Adaptation (APAN) Forum is considered Asia-Pacific's largest and longest-standing gathering of adaptation practitioners to meet,exchange knowledge and experiences, and collaborate towards the pertinent outcomes and practical solutions that are needed to address the challenges of climate change. This year's forum is hosted by the Ministry of Environment – Republic of Korea, under the bigger umbrella of the Korea Global Adaptation Week 2023 in Songdo, Incheon City. The APAN Forum is a biennial flagship event of the Asia Pacific Adaptation Network (APAN) Secretariat, hosted by the UN Environment Programme (UNEP) Regional Office for Asia and the Pacific with the support of the Ministry of the Environment – Japan.
Enhancing community resilience for the Asia-Pacific region: Promoting effective governance for locally led adaptation and sustainable adaptive practices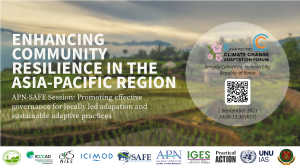 Date and time:

1 September 2023, 14:00 – 15:30 (Korea Standard Time)

Location: Room 205,

Songdo Convensia, Incheon City, Republic of Korea

Participation:

In-person
APN and the South Asian Forum for Environment (SAFE) welcomes you to join our session as part of the 8th APAN Forum's "Resilience of Communities" stream, taking place from 30 August – 1 September 2023 in Incheon City. 
In this session, the presentations and panel discussion will introduce case studies on locally-led adaptation and sustainable adaptive practices in the Asia-Pacific region, and address the long-term planning and strategic programming required to overcome barriers in climate adaptation. The session will evaluate the adaptability and transformative potential of community resilience, extending towards safeguarding livelihoods and sustainable primary productivity, and food system production and supply chains. This holistic assessment considers multiple dimensions, including food security, livelihood vulnerability, climate risk, health preparedness, and nutrition.
Participants will hear from case studies and representatives from the  International Centre for Climate Change and Development (ICCAD, Bangladesh), International Centre for Integrated Mountain Development (ICIMOD, Nepal), National Institute of Environmental Studies (NIES, Japan), South Asian Forum for Environment (SAFE, India), Thai Nguyen University of Agriculture and Forestry (TUAF, Vietnam), University of the Philippines Los Baños (UPLB, Philippines), United Nations University – Institute of Advanced Studies (UNU-IAS, Japan).
Moderators from the Institute for Global Environmental Strategies (IGES, Japan) and Practical Action Nepal will also share their insights during the Q&A session of the event.
Join us at the Songdo Convensia on the 1st of September! Please also find us on Twitter, Facebook, and LinkedIn for live media coverage of the 8th APAN Forum.