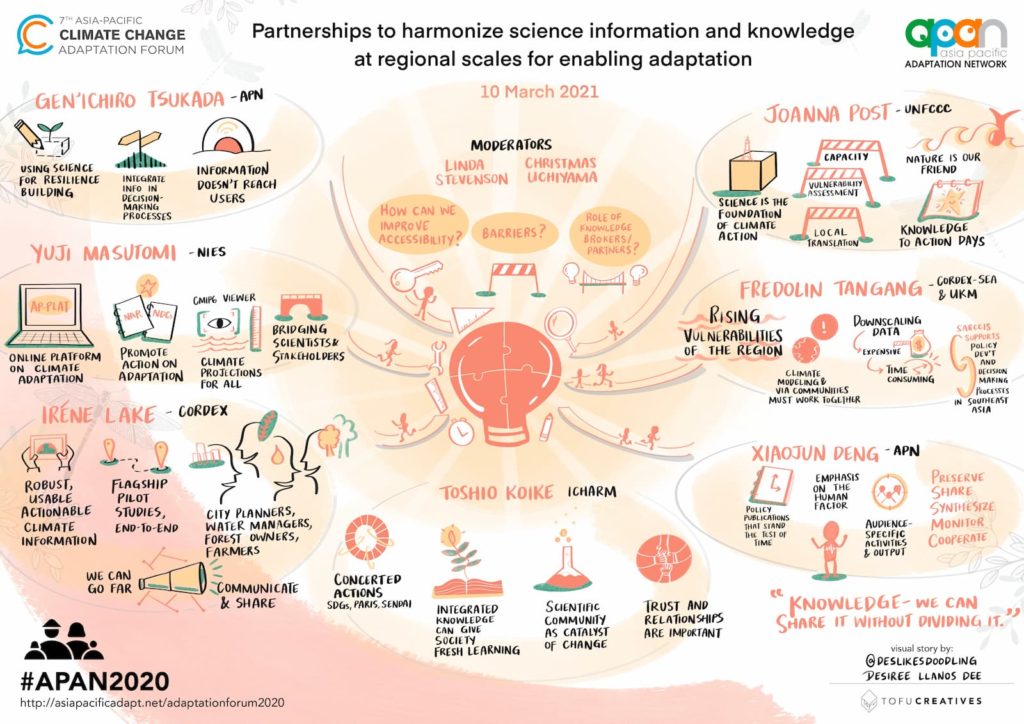 Background and description
Scientific knowledge, data, technology and innovation contribute to building resilience by empowering communities of users and beneficiaries. Climate information, for instance, needs a great degree of accuracy and requires harmonization of multiple datasets to be able to minimize nuances and enhance data quality. The widening of the divide between providers and end-users is also a critical challenge and, in some cases, the information does not reach the intended users. With this, partnerships at the regional scale are very important in overcoming barriers to accessing and using knowledge and information.
This session will feature existing work and efforts and best practices in generating, synthesizing and/or disseminating information related to climate change adaptation, and look into gaps, challenges and opportunities, especially in the context of enhancing accessibility and use of climate information to enable synergistic and coordinated adaptation in the Asia-Pacific region.
Objectives
Understand the urgency of making science and assessments available to all users and beneficiaries at different levels towards inclusive and informed adaptation planning;
Highlight the importance of contextualizing adaptation knowledge and information based on user needs and strengthening the connection between providers and users of knowledge and information;
Discuss gaps and challenges in data generation, harmonization and dissemination and identify coordinated efforts that influence adaptation actions and provide guidance to the work of the communities and cities;
Promote mechanisms that facilitate the generation, harmonization, sharing, and uptake of scientific information such as impact assessment results and datasets on climate change predictions from regional to national and local levels; and
Demonstrate that adaptation practices and approaches utilized by communities at the ground should go hand-in-hand with science and assessments in order to encourage community participation in addressing and reconciling issues in land, ocean and nature.
Key questions
How can we improve the accessibility and quality of science information and knowledge to be able to better support planning and influence science-based decision-making?
What are the barriers that limit access to knowledge and information by end-users and how can we strengthen the connection between the users and providers of science information and knowledge towards synergized and coordinated adaptation?
What is the current state of knowledge in reconciling land use, ocean use and the role of nature in tackling climate change? What is the role of regional and international knowledge brokers in closing the gaps?
Key messages
Scientific knowledge, data, technology and innovation contribute to building resilience by empowering communities of users and beneficiaries.
Partnerships and mechanisms that promote and bring about data harmonization and uptake should be well linked and reconciled.
Information and capacity needs of local communities and other direct users of knowledge and information (e.g., decision-makers) should be primarily taken into consideration when localizing impact assessments and adaptation interventions.
Date and time
Wednesday 10 March 2021, 16:15-17:45 (Thailand) / 18:15-19:45 (Japan)
Registration and further details
To participate, please register at https://us02web.zoom.us/webinar/register/6916148233709/WN_eEN3ilJ8T7KlMBMWGuDxYg
Learn more about the 7th Asia-Pacific Climate Change Adaptation Forum and APN sessions at: https://apanforum.hubilo.com/community/#/login