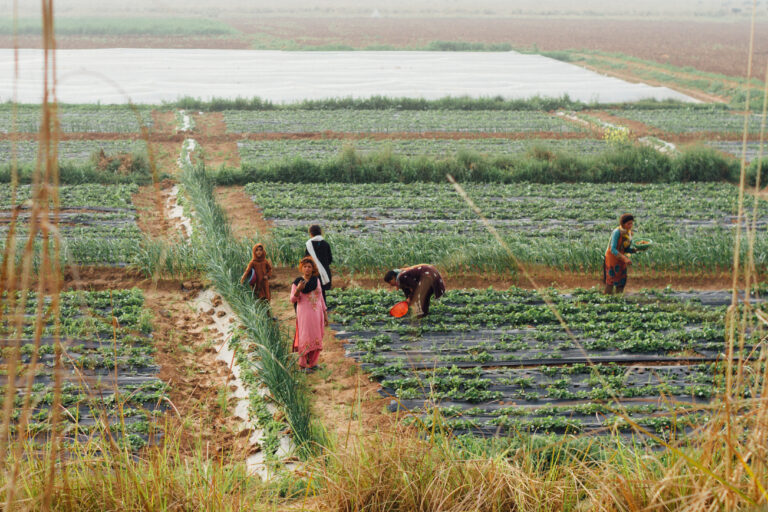 Pathways to strengthening capabilities: A case for the adoption of climate-smart agriculture in Pakistan
Pakistan has an agro-based economy with a high dependency on the sector, contributing 19.2% to the country's GDP. The country's geographical position makes agriculture highly vulnerable to climate change as it frequently faces periods of extreme weather events - flooding, droughts, and heatwaves. Due to growing environmental issues and institutional incapacities, there is an observed trend of urbanisation and depleting natural resources. Changes in land use and water scarcity cause reduced productivity and compromised economic growth. The country needs to adopt Climate-Smart Agriculture (CSA) as an adaptation measure against climate change. CSA is an approach to adopting agricultural systems strategies to minimise climate impacts and preserve natural resources. This study explores the intervention that enhanced the capabilities of provincial agriculture service-delivery organisations in the adoption of CSA. It produced a country-specific CSA resource kit and delivered training for agriculture extension officers and frontline government officers in Balochistan and Khyber Pakhtunkhwa provinces. The Pakistan Agriculture Research Council (PARC) and the Asia-Pacific Network for Global Change Research (APN) jointly delivered the project in line with the broader mission of research support, building government capacities and suggesting science-based response strategies as adaptation measures. The project experience highly recommends the adoption of CSA in Pakistan.
Highlights
Expert review of the existing training curricula led to the formulation of an updated Climate-Smart Agriculture (CSA) resource kit
Country-specific knowledge resources on CSA adoption have been developed
The agriculture officers from Baluchistan and Khyber Pakhtunkhwa benefited from the capacity development programme
Knowledge products have been produced on i) high-efficiency irrigation systems, ii) integrated pest management, iii)stress tolerant crops, iv) crop rotation, and v) crop diversification
Country-specific knowledge products have been translated into the local language, Urdu
1. Introduction
Climate change affects many elements of life worldwide, including human health, agriculture, food security, water supply, transportation, energy, and ecosystems, among others. Agriculture is one of the most vulnerable sectors to the anticipated climate change. Crop failures and animal losses will rise because of changing and unpredictable rainfall patterns, droughts, higher temperatures, increased and amplified severe weather, and pest and disease outbreaks. Pakistan's agro-based economy depends significantly on the agriculture sector's performance. The economy has resisted change towards an industrial base. The agriculture sector is still the second largest contributor to the economy with 19.2% GDP share, 38.5% employment opportunities. Around 70% of the population, mostly rural, depends on the sector for their livelihood (Government of Pakistan, 2021). The agriculture sector has grown tremendously over the past seven decades. The growth mainly originated from expansion in the irrigation water network, improved production, harvesting technologies, improved seeds with high production and resistance to diseases, better fertilisers, and efficient usage, liberalisation of price and marketing policy and other public policies. However, the overall agricultural productivity is lower than the global average, and the country could not achieve self-sufficiency in food production (Husain, 2019). The lower agricultural productivity can be linked to various aspects such as existing archaic practices in various parts of the country, changing climate, lower adaptive capacity, and lack of access to country-specific scientific and applicable knowledge on Climate-Smart Agriculture (CSA), which has become a need of the hour.
Climate change is occurring globally with varying effects on regions, whereas developing countries are least prepared to adapt. Pakistan has experienced almost all types of natural calamities, such as droughts, heatwaves, increased melting of glaciers, glacial lake outburst floods (GLOFs), and massive flooding. The country remains the fifth most affected by climate change shocks from 1990 through 2018 and the 36th least-ready country in the ND-Gain Country Index (World Bank Group, 2021). Currently, like neighbouring India, Pakistan is also experiencing an unprecedented heatwave that marked a "year without spring", which is highly unlikely to occur without the influence of global warming. Droughts and heatwaves have also taken a toll on human lives over the past three decades, as a country-specific study has reported that Pakistan has experienced 126 heatwaves of varying duration in different parts of the country from 1997 to 2015 and is likely to increase in the future (Harvey, 2022; World Bank Group, 2021).
Historically, Pakistan remains highly vulnerable to climate change. Statistics from 2000 to 2019 have ranked the country among the top ten most climate-affected countries in the Global Climate Risk Index 2021, which is an indication of a climatic future as well – proved by 2022 "super-floods" (German Watch, 2021). Natural calamities cause unprecedented losses and Pakistan remains a rare example globally, with approximately USD 4.5 billion in losses through natural calamities alone in 2010, with severe effects on the agriculture sector (FAO, 2018). Recently, the country has been facing a catastrophe of unknown precedent in 2022 as torrential rains caused super flooding, one-third of the country is inundated with floodwater, and more than 30 million people have been internally displaced. This flooding has played havoc with infrastructure, dwellings, basic facilities, and agricultural land. Besides the losses to human lives, hundreds of thousands of livestock perished, and standing crops on millions of hectares of land were destroyed, causing food shortages (Kawoosa, Bhargava, Katakam, & Sharma, 2022; UNHCR, 2022). The focused areas, particularly Khyber Pakhtunkhwa, are highly vulnerable to natural calamities and even hit hard by the 2022 countrywide flooding; Balochistan, the largest province by area, has faced frequent droughts and is severely affected by water scarcity although it largely depends on the agriculture sector for livelihoods and employment – also been massively affected by recent floods.
Being an open industry, the agricultural sector is the first and foremost witness to environmental changes. Though predicting future climate and weather patterns remain quite difficult, the IPCC observed that climate change is already affecting through increasing temperatures, changing precipitation patterns and frequent occurrences of extreme events. Studies suggest that the agriculture sector will face the loss of crops, the loss of agrobiodiversity and ecosystem services, and the incidence of pest and disease outbreaks with increasing temperature (Asian Development Bank, 2017; FAO, 2016). Climate change has varying effects in every region, whereas most developing countries have been hit hard. Based on indigenous and local knowledge, climate change is affecting food security in drylands, particularly in Asia, among other regions. Yields of some crops, e.g., maise and wheat, in many lower-latitude regions have been affected negatively (Mbow et al., 2019).
The rising temperature shall modify the growth cycles of various crops and livestock sub-sectors, leading to reduced yields. It is estimated that with the rise in temperature (+0.500°C–2.00°C), agricultural productivity will decrease by around 8% to 10% by 2040 (Dehlavi, Gorst, Groom, & Zaman, 2015). The changing temperature will further lead to frequent and intense flooding, salinisation of farmlands, soil erosion and reduced pasture output affecting crop and livestock production. Further, faster melting of glaciers in northern areas will result in the loss of standing crops and trigger climate-induced migration, which has been observed in the country (Khan, Sultan, & Khan, 2022). Similarly, increased temperatures, change in rainfall patterns, and increased frequency of extreme weather events also adversely affect livestock productivity. The negative effects of high temperatures on feed intake, reproduction, and livestock performance are evident. An increase in temperatures also causes decreased forage quality and availability, reduced water availability, increased heat stress, and the emergence of diseases in livestock.
Water is a key agricultural input, which is becoming scarce in Pakistan due to growing consumption, lack of reservoirs and storage, and persistent environmental issues. The country's water resources comprise surface water and groundwater. Numerous rivers in the country drain water from glaciers of the Hindukush Karakoram Himalaya (HKH) region that contribute up to 80% of the flow in the Indus River system. Monsoon rains also contribute a huge amount of water, which is a source of irrigation and hydroelectric power generation; however, water from these monsoon rains cannot be utilised properly for irrigation as Pakistan does not have enough storage capacity. Sometimes these rains cause major flooding in the country. Despite that, the per capita water availability is below 1,000 cubic meters compared to 5,000 cubic meters in 1950, which is alarming. The country consumes 90% of available water in agriculture, whereas 50% of this available water resource goes waste due to archaic irrigation practices. The per capita water availability is receding fast due to unchecked water extraction, climate change, and poor water management practices (Siddiqui, 2013; Sultan, 2019). Under worsening climate and seasonal weather patterns, water reservation capacity, and irrigation practices, the water crisis will likely deepen in the country, challenging the agriculture sector at large. The country must address the issue by adopting high-efficiency irrigation systems.
Although Pakistan has made significant progress in land utilisation over the years, deforestation and land use change have become major concerns in the last two decades. The growing population and urbanisation trend have put pressure on agricultural production and urban housing, which has led to the plunder of agricultural land. One such example is a major housing project on the outskirts of the historic city Multan, which, jointly with other housing projects, has cleared around 2,000 acres of mango orchards. In a country already facing various environmental and economic challenges, this is severe yet not the only example of an onslaught of real estate development in the country that has reduced agricultural land over the past two decades (Ahmed, 2017; Rashid & Moulvi, 2021) . This change in land-use issue certainly requires a policy response for the protection and efficient utilisation of agricultural land. Considering the limited land resources and economic dependence on a single crop, local farmers must adopt crop diversification strategy. Efficient land use can ensure improved agricultural productivity and yields and lower dependence on a single crop, which is a common practice in the country (Husain, 2019).
FAO frameworks on enabling policy environment for CSA recommend that the interventions on adopting climate-smart agriculture systems should focus on filling policy gaps and contribute to the country-driven capacity development programs (FAO, 2018). This study aims to explore the intervention toward adopting CSA that addresses the multifaceted challenges of the agriculture sector. The project has produced scientific knowledge resources; designed and delivered capacity-building programs to enhance the capabilities of agriculture extension services in Balochistan and Khyber Pakhtunkhwa. The final product came out in the form of locally applicable and ready-to-use scientific solutions, nature-based adaptation strategies, and enhanced institutional capabilities, which would contribute to the country's sustainable development efforts and the larger mission of the global fight against climate change. The intervention has widely benefited the agriculture extension services in Pakistan by enhancing the capabilities of provincial Agriculture Service Delivery Organizations (ASDOs) on CSA and further embedding CSA capabilities development in the mandate of provincial agriculture departments.
2. Methods
One of the project's key objectives was to strengthen linkages between science and practices, which remains a leading force throughout the project implementation. The project brought together CSA experts and leaders from national and provincial partner organisations. The experts defined methodologies and designed a capacity-building framework for enhancing the capabilities of provincial agriculture extension officers and Agriculture Training Institutes (ATIs). Following the capacity-building framework and various methods, the project has delivered institutional capacity-building programmes on CSA, which will, in turn, function to strengthen the linkages between scientific solutions and agricultural practice in the larger context of Climate Compatible Development (CCD) in the country.
2.1 Review of existing curricula
To address the challenges in the milieu of climate change, the project adopted the approach of review and research, which started with an expert review of existing curricula available and widely used at the provincial ATIs. Most of the Agriculture Extension Officers in Pakistan enter into the service after completing a graduate degree in agriculture – gain conventional environmental and agricultural knowledge that local universities' curriculum offer – and for professional training, they solely depend on the provincial ATIs. Globally, climate change science has become a highly specialised and top priority to achieve sustainable development, particularly agriculture growth. However, a thorough expert review brought to attention that the existing curricula within governmental organisations in the country lack country-specific scientific adaptation strategies and knowledge on climate change and adaptation.
Considering all these factors, the curricula review brought recommendations to prepare a comprehensive CSA resource kit backed by science and applicable in the local context to be utilised for the project's capacity-building component. Later, this resource was shared with ATIs, agriculture extension services, and other organisations working towards agricultural advancement in the country.
2.2 Research approach
To develop country-specific resources, the project team conducted desk research under the close supervision of Climate-Smart Agriculture experts at Pakistan Agricultural Research Council (PARC) and prepared scientific knowledge resources, which are suitable in the local context. Further, the experts prioritised five key strategies that led to the development of accessible knowledge products for communities that were translated into a local language to educate farmers on CSA approaches. During the research phase, resources at PARC, Climate Change Centre, The University of Agriculture Peshawar, Agriculture Department of Balochistan, curricula of Agriculture Training Institute Peshawar, LEAD Pakistan's library, various online knowledge portals and research by bilateral organisations, and advisory support by CSA experts were widely utilised.
2.3 Capacity building approach
The project adopted the capacity-building approach to enhance the capabilities of provincial Agriculture Service Delivery Organisations (ASDOs). For that purpose, the project has followed the capacity-building framework and built the capacities of District Agriculture Officers of the Balochistan and Khyber Pakhtunkhwa provinces. This training was designed in close coordination among PARC, provincial partners, and ASDOs. The provincial agriculture departments made nominations for the training, whereas a committee selected two batches comprising 31 training beneficiaries through a rigorous process considering the diverse agro-ecologies in the country.
A newly developed comprehensive resource kit was utilised to deliver the training on CSA technologies and adoption strategies. These were in-person training, where experts from various organisations joined to deliver sessions. Each session was precise, insightful, well-designed, and delivered by experts through participatory approaches. The participants acknowledged that sessions were useful and directly related to their day-to-day job. Various supplies were utilised, such as PowerPoint slides, videos, documentaries and local case studies – and knowledge resources were provided to all participants in printed form and in portable drives. Most beneficiaries have marked the training as comprehensive and exceptionally up-to-date through post-evaluation written feedback. The participants were frontline agriculture officers and it is expected that CSA adoption strategies would be implemented at a grassroots level. This project initially benefited two provincial institutes; however, it will further contribute to the larger process of sustainable development in the country through improved capabilities of governmental organisations.
2.4 Consultation Workshop
A national-level consultation workshop brought together agriculture extension experts from Balochistan, Khyber Pakhtunkhwa, Punjab, and Sindh, intending to disseminate knowledge resources and replicate the lessons in other parts of the country. Key stakeholders such as agricultural training institutes, industry experts, policymakers, non-profits, and bilateral organisations working on agricultural advancement in the country were also invited. The consultation workshop aims to share project experience, sensitise policymakers on adopting CSA practices and technologies, and further improve coordination to meet the common objectives. The forum has strongly recommended the integration of the newly developed CSA resource kit into the curricula of ATIs of all provinces in Pakistan.
3. Results and discussion
5. Conclusion
Agriculture is the foundation of food security and economic development in Pakistan, meets the livelihood needs of the majority of the rural population, and provides feed for livestock, raw materials for industry, and value-added products for both domestic consumption and international markets (Khan et al., 2022). However, the lack of capabilities to tackle the emerging challenges remain evident, and the development of knowledge products and capacity building was a much-needed intervention. The country's complex issues, such as alarming population growth and urbanisation trend, demand higher agricultural production. It needs agricultural diversification, switching to higher-value nutritious crops, and better management of natural resources, such as water, that can be achieved through the sector's transformation to CSA. This requires building institutional capacities on CSA and attuning the country's agriculture sector under a climate-compatible development (CCD) framework. To accomplish the agricultural growth ambitions and growing food demands, a lack of institutional capacities remains a major hindrance. It thus needs support through country-specific research and capabilities development. The adoption of CSA is one of the key interventions that can assist the country in enhancing its agricultural production, improving livelihoods, gaining economic growth, and achieving the larger goal of sustainable development.
Acknowledgement
We acknowledge the support and contribution of the Asia-Pacific Network for Global Change Research, with a special mention of Dr Linda Anne Stevenson, Nafesa Ismail, and Christmas Uchiyama, in advancing Climate-Smart Agriculture under Grant No. CBA2019-07SY-Khan.
We wish to thank and acknowledge the support extended by National Advisor, Dr Zakir Hussain Dahri (Pakistan Agriculture Research Council), Dr Iqrar Ahmad Khan (University of Agriculture Faisalabad), Dr Bakhtiar Gul (Climate Change Centre – University of Agriculture Peshawar), Dr Arif Shah Kakar, (Plant Protection Department, Balochistan), and Zeeshan Tahir Virk. We also thank CSA experts from Pakistan Agricultural Research Council (PARC), Pakistan Planning Commission, Global Change Impact Studies Centre (GCISC), SAWiE, LEAD Pakistan, and other stakeholders who extended their intellectual support.
We especially thank Fatima Hasan Bajwa, Ambreen Niaz, and Pakistan Climate Initiative for their research support.