23 June 2023, Kobe—The 25th Joint Intergovernmental Meeting (IGM) and Scientific Planning Group (SPG) Meeting was held online, joined by over 30 participants from 19 countries, including national Focal Points, members of the SPG, members of the Capacity Development Committee (CDC) and representatives of observer organizations.
The IGM reviewed the status of action points of its previous meeting and considered a report from the Steering Committee, which highlighted APN activities undertaken during the intersessional period since February 2021, particularly on strategic engagement with global change and sustainability organizations, call for proposals and project management, as well as collaborative activities that contribute to global and regional initiatives such as the Intergovernmental Panel on Climate Change (IPCC), North Pacific Marine Science Organization (PICES) and Asia-Pacific Climate Change Adaptation Information Platform (AP-PLAT).
The IGM also approved the extension of its Fifth Strategic phase by two years until the end of June 2026, as a response to the impacts of the COVID-19 pandemic on the implementation of projects and activities.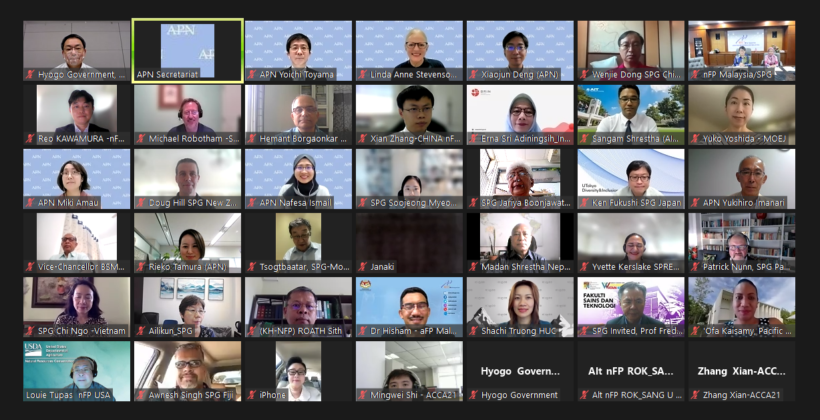 An interactive session was held during the IGM, featuring presentations by APN invited experts from the Asia Institute of Technology and the University of the Sunshine Coast, as well as representatives from the Pacific Climate Change Centre (PCCC) and the International Centre for Integrated Mountain Development (ICIMOD)/World Climate Research Programme (WCRP). The session focused on insights from the recently published Working Group II contribution to IPCC's 6th Assessment Report (AR6), particularly in the context of vulnerable communities in the Asia-Pacific region, as well as bottom-up initiatives to address regional climate risk.
The interactive session highlighted an APN special issue titled Climate Change Impacts, Vulnerability and Adaptation: Asian Perspective, which included 16 papers that assessed the impacts of climate change on health and water resources, as well as the resilience of micro-businesses, communities and government entities to climate change and human development. Some of these outputs have been cited in Chapter 10 (Asia) of the Working Group II contribution to the IPCC AR6 on climate change impacts, adaptation and vulnerability. The IGM applauded APN's contribution to the landmark global assessment with over 100 publications cited in the AR6 Working Groups I, II and III reports.
In the lead-up to the IGM, the 49th Steering Committee considered strategic engagement activities and approved the proposed work programme and budget plan for FY 2022 (July 2022 to June 2023), which include funding for 9 proposals under the Collaborative Regional Research Programme (CRRP) and 10 proposals under the Scientific Capacity Development Programme  (CAPaBLE), as recommended by the SPG and the  CDC, respectively, following a nine-month review process involving internal and external reviewers.
The list of proposals approved for funding will be announced separately in July 2022.