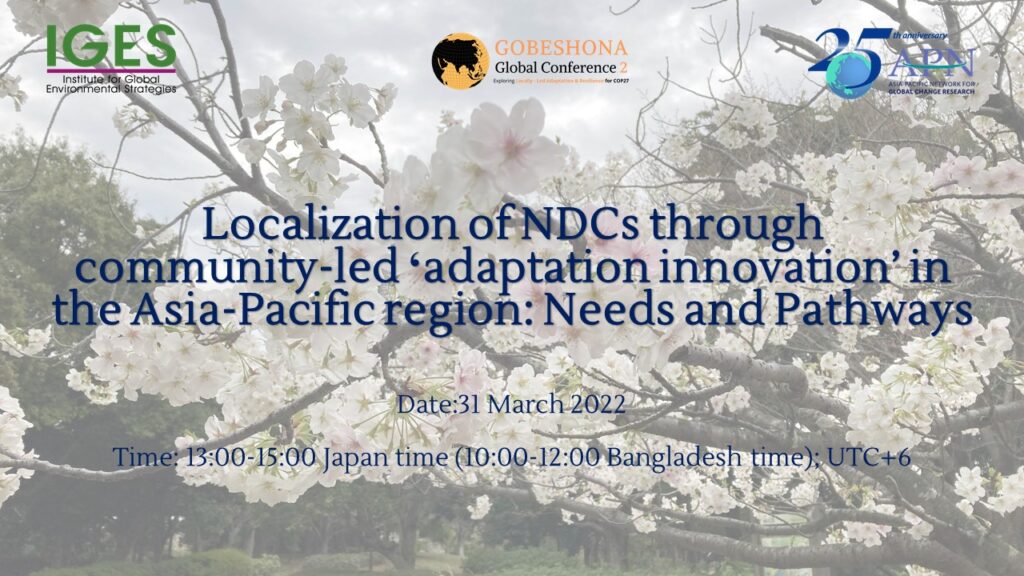 31 March 2022—The Institute for Global Environmental Strategies (IGES) and APN jointly organized a session titled "Localization of NDCs through community-led "adaptation  innovation" in the Asia-Pacific region: Needs and pathways" at the Gobeshona Global Conference 2 on 31 March 2022. The session comprised audience engagement with Mentimeter, breakout sessions responding to key questions and panel discussion.
Speakers:
Dr Chi Huyen Truong, Programme Coordinator, Himalayan University Consortium, International Centre for Integrated Mountain Development (ICIMOD), Nepal
Dr Hoon Chang, Thematic Climate Advisor at United Nations Capital Development Fund (UNCDF), Thailand, and Former Director, Korea Adaptation Center for Climate Change (KACCC), Korea Environment Institute (KEI), Republic of Korea
Prof. Mizan R. Khan, Deputy Director, International Centre for Climate Change and Development (ICCCAD), Bangladesh
Ms Ofa Ma'asi-Kaisamy, Manager, Pacific Climate Change Centre, Secretariat of the Pacific Regional Environment Programme (SPREP), Samoa
Prof. Patrick Nunn, APN Capacity Development Committee, University of the Sunshine Coast, Australia
Ms Vositha Wijenayake, Executive Director, SLYCAN Trust, Sri Lanka
Dr Yuki Yoshida, National Institute for Environmental Studies (NIES), Japan
Key points from speakers:  
The Asia-Pacific is a diverse region where adaptation plans need to be tailored to individual countries and regions as one size does not fit all.
There has been a paradigm shift from top-down to bottom-up in developing and implementing adaptation plans, creating "local-centric policies" and generating a sense of ownership. That said, there is still a lack of information and technology to assess future climate projections, the leadership of governments and public interest etc.
Need to combine global knowledge and local knowledge to implement adaptation plans effectively. At the same time, empower local communities as they underestimate themselves and wait for external support.
Adaptation technologies need to be affordable and usable at the local level. Need to use local languages and build the capacity to enable local uptake and application.
To effectively implement adaptation plans, partnerships need to include all stakeholders in the community, such as youth, women and entrepreneurs etc.
Key takeaways from the end of the session:
Co-creation of knowledge and solutions is key to facilitating effective and sustainable adaptation action.
Capacity-building should not be one-off, rather, it needs to be like friendship, and a continuation of the partnership should be ensured.
We need affordable and contextualized technology to ensure workable locally-led adaptation (LLA) practices.
LLA has to be a part of NAP and NDC implementation to establish effective linkages with national and international policy processes.
We need a phase wise approach under a long term planning and sustained partnership to truly  realize LLA potential for a paradigm shift to transformative adaptation.