The Universitas Hindu Indonesia (UNHI) facilitated the soft launch of the edited volume "Civic Engagement in Asia: Stories of Transformative Learning in the Quest for Sustainable Future". The event was part of UNHI's 4th International Conference of Interreligious and Intercultural Studies (ICIIS) with the theme "Community, Ecology, and Religion: Interdisciplinary and Civic Engagement toward Sustainable Living" which was held in Denpasar, Bali on 15 February 2020.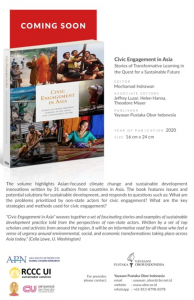 The book launch was led by Dr Dicky Sofjan and Dr Mochamad Indrawan, representing respectively authors and editors of the volume. The book is a joint endeavor by Chulalongkorn University, Thailand and Research Center for Climate Change of Universitas Indonesia (RCCC UI) with the support of APN through CBA2018-05SY-Indrawan. The 24 chapters were written by 31 expert practitioners from 11 Asian countries, and published by a reputable Indonesian organization namely Yayasan Pustaka Obor Indonesia. Considering the standards aimed by the book, the product can also be considered as capacity building for Southeast Asian domestic publishing.
CBA2018-05SY-Indrawan is a CAPaBLE project aimed at enhancing ASEAN policies on the sustainable development goals (SDGs) by banking on experiences from non-state actors, especially civil society in the ASEAN region.
(Reported by Mr Made Adi Widyatmika, UNHI)