"Satoyama" is a Japanese term applied to the border zone or area between mountain foothills and arable flat land. "Sato" means arable and habitable land, and "yama" means hill or mountain. In Japan, satoyamas have been developed through centuries of small scale agricultural and forestry use.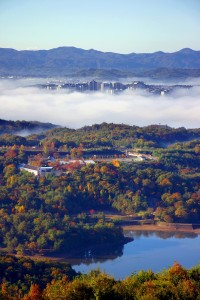 The relationship between people and satoyama nourished the Japanese harmonious life style with nature. In Hokusetsu region located in the north of Osaka and Hanshin area, there exists a number of well-managed satoyamas with rich history and culture, which harbours conserved biodiversity. Some satoyamas in this region are deeply connected with the Japanese traditional culture, such as the production of special charcoal used in tea ceremonies called "kikuzumi."
In order to promote Hokusetsu Satoyama activities and raise awareness on the values and ecosystem services satoyamas offer, an International Symposium on Hokusetsu Satoyama will be held on 30 November 2014 (Sunday) at Takarazuka Hotel, Takarazuka City. The symposium, organised collaboratively by APN, Hyogo Prefectural Government, Institute for Global Environmental Studies (IGES) and Hokusetsu Satoyama Museum Council, consists of three lectures and three case studies to be presented by various experts on satoyama. Themed "From Hokusetsu Region to the World: Our Satoyama," it also aims to provide avenue to widely disseminate the concept of sustaining Hokusetsu Satoyama Museum.
For further information about the event and on how to register:
International Symposium on Hokusetsu Satoyama