The UPLB Institute of Agroforestry held a Special Webinar on 28 April 2022 with the theme "Enhancing adaptive capacity of rural farming communities in Southeast Asia: Best practices and lessons learned".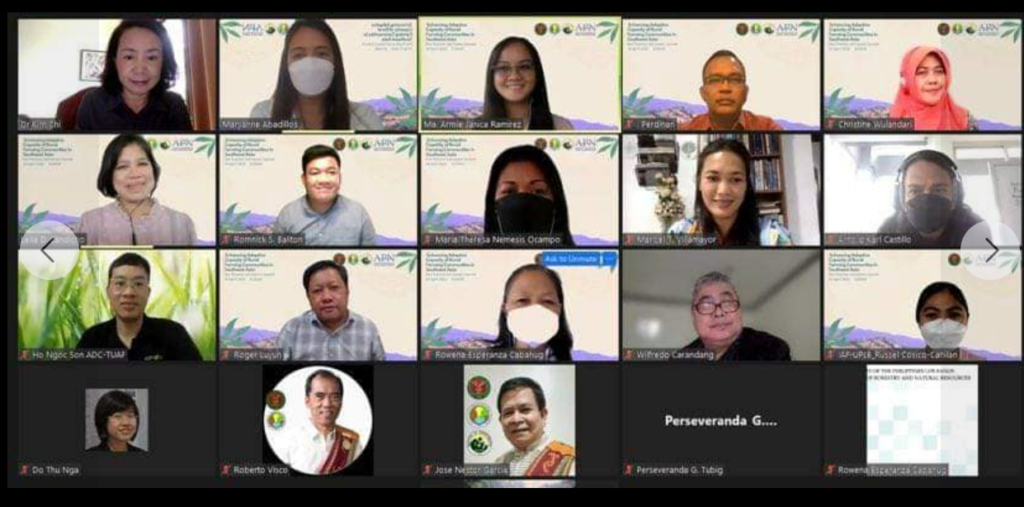 Attended by about 260 participants, this webinar highlighted the ten capacity development projects funded by the APN and worked on climate change adaptation and community resilience.
Among the key lessons that were distilled from the ten capacity development projects are:
the importance of collaboration and partnership not only in facilitating project implementation, but in promoting resource sharing and integration of efforts;
addressing the needs of the local communities matters most to ensure their active participation and sustainability of project activities;
promoting policy-science linkages would pave the way for the institution and execution of local policies with science-based data as basis;
awareness-raising is an essential component of capacity development projects;
building model farms and demonstration plots showcase the workability and viability of the technology, which could help enhance technology adoption;
universities taking the lead in project implementation count a lot because of their technical expertise and mandate to undertake capacity-building programs; and,
active engagement of local communities ensures their genuine participation and would help develop their sense of project ownership, which could pave the way for the sustainability of the initiatives.
The webinar, which is a part of the Early-Career Science Communication project of Dr Leila D. Landicho, also highlighted with a video presentation (below) which put emphasis on the significant contributions of the project, as articulated by the local partners.
The event culminated with a closing remarks delivered by the Co-Chair of APN Scientific Planning Group, Dr Ngo Chi Kim, who expressed appreciation about a number of significant experiences and lessons that were generated by the ten capacity development projects, and emphasized the need to sustain collaboration and partnership.
The organizers would like to acknowledge APN, the project teams and the participants.