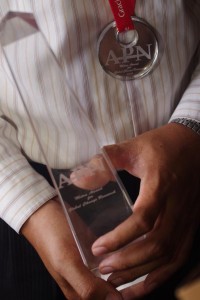 (Open for young/early-career scientists working in Nepal)
On the occasion of its 20th Inter-Governmental Meeting (IGM) and Scientific Planning Group (SPG) Meeting to be hosted by the Ministry of Science, Technology and Environment, Government of Nepal at the Soaltee Crowne Plaza Kathmandu, Tahachal, Kathmandu from 25 to 27 March, 2015, the Asia-Pacific Network for Global Change Research (APN) will convene an interactive session on "Youth Engagement in the APN" as part of our 20th Anniversary celebration.
The "Youth Engagement in the APN" session will be held on Wednesday 25 March 2015 and will provide young/early career scientists with an opportunity to display and present, via posters, their research work to the invited esteemed members of the scientific and policy communities from within and outside the Asia-Pacific region.
Submitted posters will be judged by the APN's members and other members of the International Global Change research community. The winning young scientist will have the opportunity to deliver an oral presentation at the IGM/SPG plenary on Friday 27 March, 2015.  The winner will be recognised as an outstanding young/early career scientist of Global Change research in Nepal and will receive the Mitra Award for 2015.
For more information about APN's Mitra Award, please refer to: https://www.apn-gcr.org/programmes-and-activities/pdtw/#mitra_award
Eligibility Criteria
Applicants must be young, early-career

Nepali researchers (preferably under 40) currently based and conducting their research in Nepal

(research students and post-docs encouraged). Scientists undertaking regional-based research are particularly encouraged to apply.
Nepali Scientists working outside of Nepal are

not eligible

to submit an abstract.
Complete and submit the abstract submission form of the poster session through the APN website https://www.apn-gcr.org/igm/20/abstract-submission.php, a

300-word abstract,

on or before

 Wednesday 25 February 2015 midnight, Japanese Standard Time (JST).

The research must be original and address issues of global environmental change (refer to "Abstract Submissions" below).
Scientists must be available to present their posters in the

afternoon of Wednesday 25 March 2015

at the Soaltee Crowne Plaza Kathmandu, Nepal.
Abstract Submissions
Abstracts must be in the English language and include a concise introduction describing the purpose of the poster, as well as a brief description of the research subject, methodology, results and conclusions. If appropriate, results can be presented in tabular form. Abstracts may NOT include graphs, diagrams or photographs. Scientists are encouraged to seek assistance from their advisers and others in preparing their abstracts and posters.
Abstracts must be received by Wednesday 25 February 2015, midnight JST to be considered. Only electronic submissions through APN website will be accepted.
Abstracts will be reviewed by a sub-committee selected from the APN membership. Main criteria include:
   i. Originality of research;
   ii. Conciseness of written abstract;
   iii. Clarity of methodology;
   iv. Organisation of the information; and
   v. Scientific merit.
Successful Applicants will be informed by Friday 27 February 2015 (although the process may be later depending on the number of abstracts received).
Abstracts will be accepted according to at least one of the following scientific themes under the APN's science agenda on Global Environmental Change.
   i. Climate Change and Climate Variability
   ii. Ecosystems, Biodiversity and Land Use
   iii. Changes in Atmospheric, Terrestrial and Marine Domains
   iv. Use of Resources and Pathways for Sustainable Development
For additional queries, please contact the APN secretariat via email at: Dr.  Linda Stevensonlastevenson@apn-gcr.org and carbon copy to Ms. Taniya Koswatta tkoswatta@apn-gcr.org