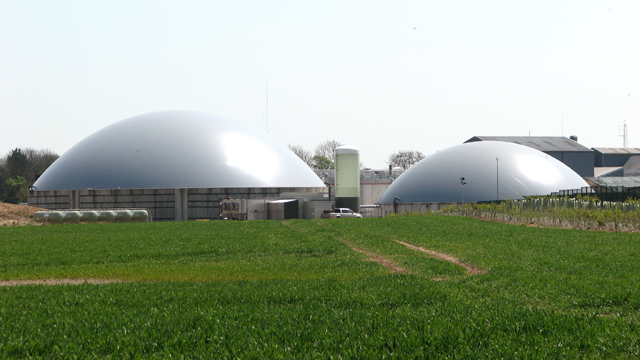 Evaluation of prospects and barriers of biogas produced from livestock waste towards sustainable development and adaptation to climate change, in Nghe An province, Viet Nam
The livestock sector is one of the fastest growing agricultural subsectors in Viet Nam, resulting in growing demand to sustainably dispose or re-use livestock waste. This research examined the current adoption of biogas digestion of livestock waste treatment at household farms in order to provide insights for policy towards effective implementation. A questionnaire survey was conducted in September 2019, with the participation of 120 livestock owners in Nghe An province, which focussed on accessing their perspectives on biogas and examination of factors impacting their decisions to utilize this technology. Most respondents determined biogas to be an attractive solution for improving the environment. However, several factors limited the development of biogas installation, including technical and financial barriers, awareness and capacity limitations, and financial support as the most significant of these. Government support and policies that encourage household biogas utilization as a sustainable energy source to combat climate change is recommended.
Highlights
All respondents were aware of the negative impacts of untreated livestock waste.
The average volume of household biogas digesters has increased in recent years.
Large volumes of biogas are wasted due to low quality biogas devices.
Only 35% of respondents use bio-slurry for crop fertilization.
Lower livestock prices reduce the demand for biogas installation.
1. Introduction
The livestock sector plays a dominant role in the Vietnamese agriculture industry, accounting for 28% of agricultural gross value (Tung, 2017) and is one of the fastest growing subsectors. According to the General Statistic Office, Viet Nam's main livestock included 28.15 million pigs, 5.80 million cows and 2.43 million buffaloes by the end of 2018 (GSO, 2020). Further, smallholders contribute significantly to this growth. Approximately 80% of Viet Nam's pig herds are currently owned by smallholders and this number is expected to remain competitive in the future (Lucila et al., 2012). In 2017, pig production from smallholders contributed 5.5% to the national GDP (MARD, 2016).
Nghe An, Viet Nam is a typical livestock-oriented province, contributing 47% of the total provincial agricultural production in 2019 (Nghe An GSO, 2019). Provincial reports indicate increasing pressure to handle livestock waste sustainably (Nghe An PC, 2015), with several incidences of water pollution attributed to poor livestock waste disposal. For instance, industrial-scale pig farm waste caused severe water quality degradation of the Trang Den Lake in Nam Dan district linked to the Dai Thanh Loc Limited Company (Dac, 2020). Lake water turned black, alongside reports of strong odours from the pollution of pig slurry. Another example from Do Luong district reported damage to 142,000 m2 of rice land, 42,000 m2 of fishponds and contamination of drinking water in 16 households in the commune attributed to the waste effluent from the large-scale pig-breeding farm of Thai Duong Limited Company (Hoan, 2011). Consequently, several solutions have been applied in the province to increase the protection of surrounding environments from untreated livestock waste, including biogas digesters and compost pits. Recovery of biogas from livestock waste is not only a method to obtain a local source of energy but can reduce greenhouse gas (GHG) emissions related to waste management, fossil fuel and chemical fertilizer usage. However, the application of biogas from livestock waste is still limited (Nghe An PC, 2015). The National Energy Master Plan, which aims to prioritize the development of renewable energy sources for electricity production, also stated that the greatest difficulty in developing biogas digestion in Viet Nam is inadequate interest and awareness of livestock farmers and society about the role and benefits of biogas (MOIT, 2017). Additionally, mobilizing people to use a new type of energy is very difficult with routine use of energy from electricity or traditional materials (e.g., coal and/or wood).
Due to its agricultural landscape, Nghe An province was selected as a case study to examine the current situation of adopting biogas digestion for livestock waste treatment in household farms in order to identify challenges, knowledge gaps and insights for policy. To achieve this, a questionnaire survey was conducted to (i) evaluate the biogas potential of the province regarding the reduction of GHG emissions and its development as a renewable energy source; (ii) assess household perspectives on using biogas digestion for livestock waste treatment; and (iii) highlight factors that impact household decisions to adopt biogas technology.
2. Methodology
2.1 Description of the study site
Nghe An province is located in the North Central Coast of Viet Nam, with an area of 16,490 km2, accounting for 32% of the total area of the North Central Coast region and 4.98% of Viet Nam. Land-use is comprised of 75.8% agricultural land, 7.8% non-agricultural land and 16.4 % unused land. In 2019, the population was estimated at 3.3 million inhabitants (Nghe An GSO, 2020). The province has 17 districts, 3 towns and a city, stretching from the high mountainous districts of Ky Son, Tuong Duong to delta districts of Dien Chau, Quynh Luu (coastal) (Figure 1 ).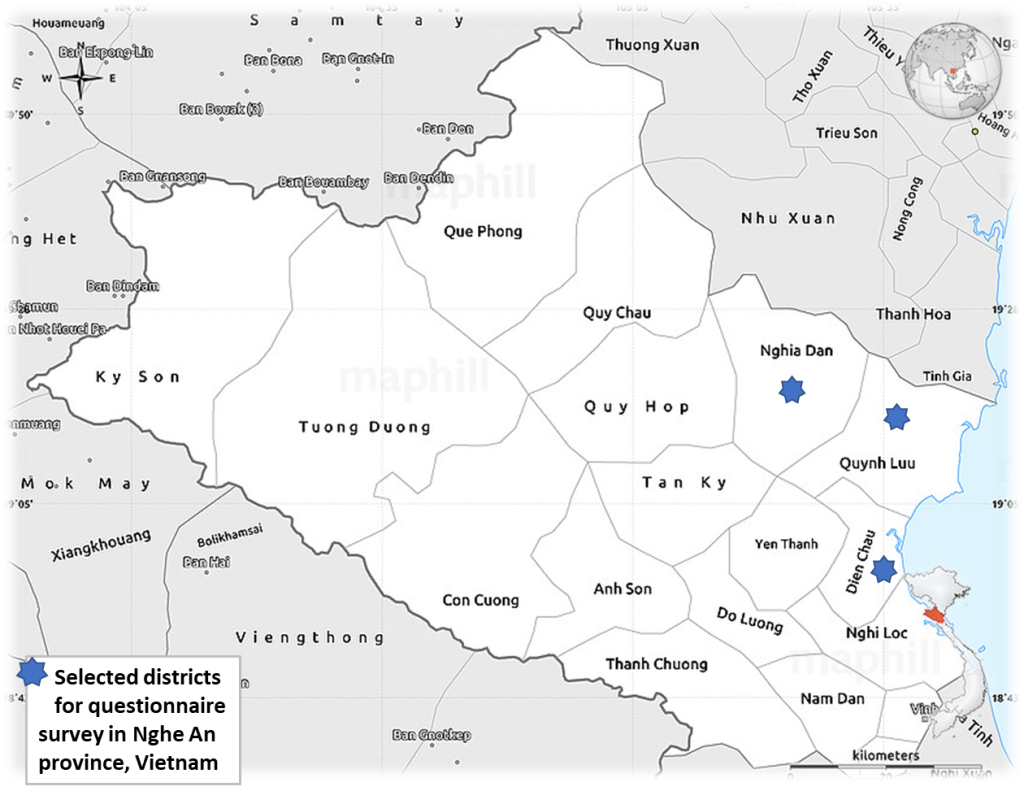 Livestock is an important and growing sector in Nghe An province, with the recent growth rate of livestock numbers estimated to be 5% to 5.5% per year. The province has more than 500,000 households producing livestock and poultry (Nghe An GSO, 2019). As of May 2019, total buffalo and cow numbers were estimated at 272,970 and 471,029 heads, respectively. While the total herd of pigs were two-fold higher, at 857,490 heads.
2.2 Questionnaire survey
In September 2019, a questionnaire survey was conducted of 120 livestock households from three neighbouring districts of Nghe An province: two delta districts (Dien Chau and Quynh Luu) and one middle mountainous district (Nghia Dan). Trained investigators visited each district and carried out personal interviews with randomly selected households, rather than requesting that respondents complete the surveys on their own. This methodology was chosen on account of the higher accuracy of responses and completion rates compared to the latter. The questionnaire survey focused on the perspectives of households on using biogas digestion for livestock waste treatment and their knowledge on the benefits of biogas technology. Identifying factors that influence household decisions to adopt biogas technology were also included.
3. Results and Discussion
3.1 Prospects of biogas produced from livestock waste for GHG reduction and renewable energy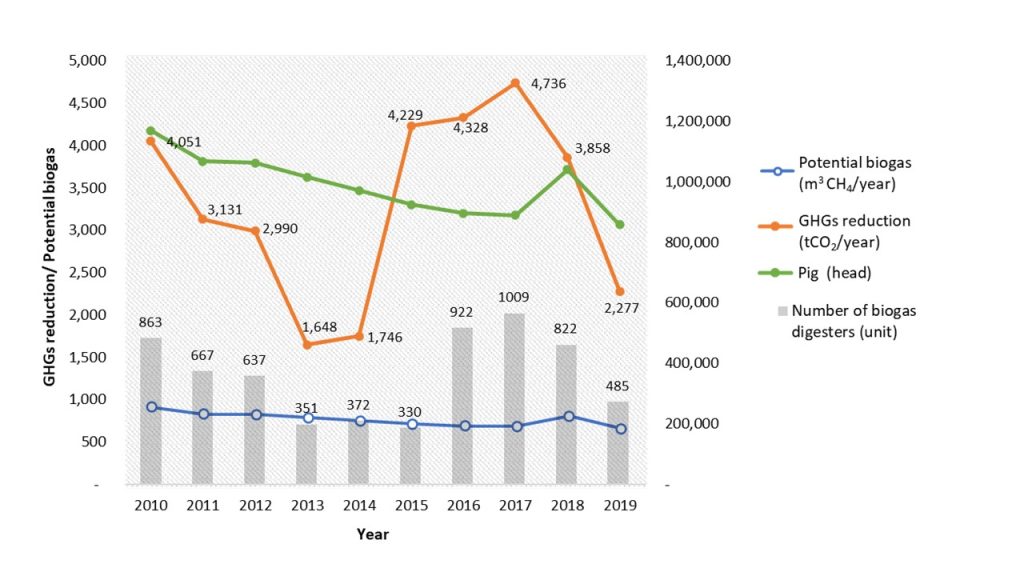 Pig populations in Nghe An province have seen a slight reduction over recent years due to pig disease outbreaks and an increase in the cost of feed and other inputs (Figure 2) (Nghe An PC, 2015). The pig population recovered in 2018 but dropped again in 2019 due to African Swine Fever (Le et al., 2019). The decrease in pig population was 3.4% annually between 2010 and 2017 but dropped to 17.6% during the disease outbreak of 2018-2019. Interestingly, the highest number of biogas digesters installed was between 2016 and 2018, as pig numbers increased.
Biogas potential from livestock waste in Nghe An province previously reported by Le, Do, and Dinh (2021) was estimated to emit 3,000 to 5,300 tCO2 per year if no waste treatment was applied. These values were estimated using the annual values of pig manure generated in the province (~2,100-2,900 thousand tonnes from 2010 to 2019). With the current biogas adoption shown in Figure 2, a reduction of 75% of emissions could be achieved, equal to 2,200 to 4,000 tCO2 per year, and a potential biogas load of 700-900 m3 CH4 could be produced (SNV, 2021). Thus, biogas digestion could not only reduce environmental pollution problems but GHG emissions too, via the production of cleaner energy.
3.2 Status quo of biogas usage in districts of Nghe An province
In general, pig production in Nghe An province can be divided into industrial and smallholder farms. Industrial farms have at least 20 sows or 100 fatteners, and heavily invest in production, whilst smallholder farms operate on a much smaller scale (i.e., 1-9 heads). In 2015, there were 174 industrial farms located mainly in the delta districts, which jointly kept about 30% of the total pig herd of the province (Nghe An PC, 2015). The remaining 70% of the total pig herd belongs to smallholder farms (households), which are more vulnerable to swine diseases due to less hygienic farmyard conditions due to inadequate slurry removal. Biogas utilization could be an effective solution for smallholder farms to cope with this issue.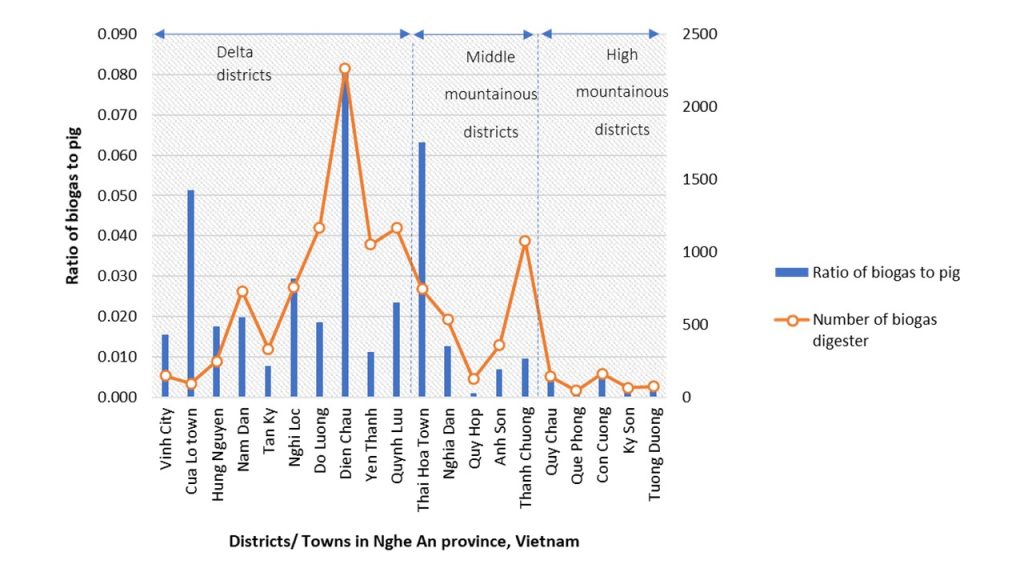 The delta districts had the highest number of biogas digesters of the different districts, whereas the high mountainous districts had the lowest (Figure 3). The ratio of biogas to pigs in the delta districts was also higher compared to the moutainous districts, which could be due to the higher pig population in the delta districts accounting for 54.5% of total pig numbers in the whole province (Nghe An GSO, 2019).
Dien Chau district has the largest number of biogas digesters in the province. This number is two-fold higher than Do Luong and Quynh Luu districts, which have the second largest, with all three located in the delta area. It is important to note that Dien Chau district has not only the biggest amount of biogas, but also the largest ratio of biogas to pig numbers. Even Cua Lo town has one of the largest ratios of biogas to pig number, despite a small number of biogas digesters. Thai Hoa town located in the middle mountainous area, has the second largest ratio of biogas to pig numbers amongst districts in Nghe An province.
3.3 Questionnaire survey of livestock farmers
4. Conclusion
In Viet Nam, the livestock sector has grown rapidly in recent years, resulting in challenges to the handling of livestock waste. Encouraging livestock households to construct biogas digestors is one solution to manage livestock waste, whilst reducing GHG emissions, producing renewable energy, and creating by-products that can be used as organic fertilizers. The questionnaire survey in Nghe An province has highlighted limiting factors to the uptake of livestock waste biogas. Addressing these factors are necessary to upgrade and promote biogas utilization as an effective and costly means toward sustainable agricultural production and climate change mitigation.