Mitra Award on Global Change Research
The Mitra Award for Global Change Research was established in 2010 in memory of Dr. Ashesh Proshad Mitra, APN SPG Member for India from 1996 to 2007. Dr. Mitra was a doyen in atmospheric research in India and was the recipient of the Padma Bhushan award by the Indian government in recognition of his distinguished service to the nation in the field of scientific research.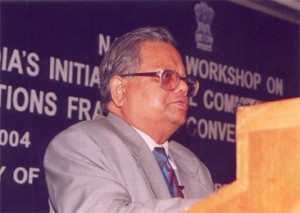 The award recognises outstanding young scientists conducting global change research in Asia-Pacific region. Young scientists from the host country of APN's Intergovernmental Meeting (IGM) are given the opportunity to present their research in a poster session to scientists, practitioners and policy makers attending the Meeting.
The posters are judged by APN's national Focal Points and Scientific Planning Group Members. Winners are presented the Mitra Award for Global Change Research in recognition of their outstanding work.
Past winners of the Mitra Award:
2015: Shiva Khanal, Department of Forest Research and Survey, Kathmandu, Nepal
Integration of object-based image analysis with machine learning algorithm for forest type classification in Nepal
2014: Khon Puthea, Wetlands Work!, Cambodia
Sanitation technology for a safe environment  in floating communities in Tonle Sap Lake, Cambodia
2013: Joni Jupesta, United Nations University – Institute for Advance Studies, Tokyo, Japan
Rio+20 Outcomes into Implementation: Water-Energy-Food Security Nexus in Indonesian Palm Oil
2012: Evi Gusmayanti, Centre for Wetlands People and Biodiversity, Universitas Tanjungpura, Indonesia
Natural properties of carbon stock in customary peat forest at Danau Sentarum National Park, West Kalimantan, Indonesia
2011: W.G.D. Lakmini, Faculty of Agriculture, University of Ruhuna, Sri Lanka
Plant mediator to tackle climate change
2010: Woo-Seop Lee, Department of Atmospheric Sciences, Kongju National University, Republic of Korea
The relationships between absorbing aerosols and snow cover/snow water equivalent over the Himalayas and the western Tibetan Plateau during boreal spring