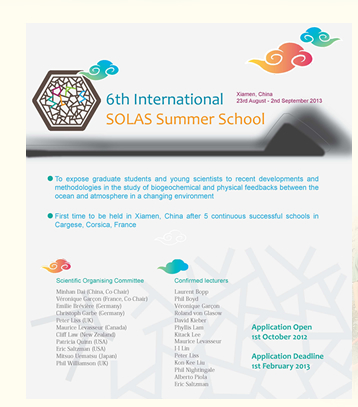 SOLAS サマースクールは二年に一度開催され、70を超える参加学生と各分野の世界的な科学者とを、講習と実践的なワークショップを交えながら結ぶ国際イベントです。
It aims to teach the skills and knowledge of the many disciplines needed to understand the nature of ocean-atmosphere interactions. It allows doctoral students and early-career researchers to see how their work fits into the broad canvas of SOLAS, and global change research more generally.
The Summer School aims to  expose graduate students and young scientists to recent developments and methodologies in the study of biogeochemical and physical feedbacks between the ocean and atmosphere in a changing environment
The sixth summer school will be in Xiamen, China, from 23 August – 2 September 2013.
詳しくはこちら: http://mel.xmu.edu.cn/solassummerschool/