APN International Symposium: Coexistence with Nature ~ Biodiversity and People – Hyogo Dialogue for the Future ~, 09 September 2010, Hyogo House, Kobe, Japan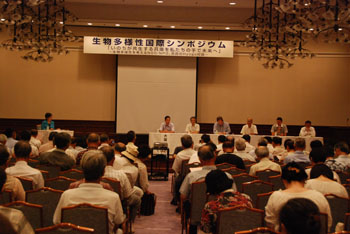 Human society is dependent on rich biodiversity and receives diverse ecosystems services from it. On the other hand, however, because of our complex lifestyles and our focus on economic growth, we, as a society, are largely responsible for species loss or extinction.The United Nations declared 2010 as the "International Year of Biodiversity." At the 10th Meeting of the Conference of the Parties (COP 10) of the United Nations Convention on Biological Diversity (UNCBD), to be held in Nagoya City, Japan, in October this year, rich discussions are expected to take place on crucial issues related to biodiversity and its conservation; with emphasis on how the global community can attempt to reverse the current rate of biodiversity loss.
With this background, society must collectively think of how it can take the lead in biodiversity conservation to establish and sustain harmonious coexistence with nature for future generations. The goal of the symposium is to provide a platform for understanding and discussing the importance of biodiversity and share our knowledge derived from manifold activities in our region.
Organised by:
Asia-Pacific Network for Global Change Research (APN), Hyogo Prefectural Government
Co-organised by:
DIVERSITAS in Western Pacific and Asia (DIWPA)
Supported by:
Kinki Environment Office, Ministry of the Environment, JAPAN, Institute for Global Environmental Strategies-Kansai Research Centre, (IGES-KRC)
Lecturers: Download lecturer's profile
Abstracts and Presentations:
Keynote Speech
Izumi WASHITANI, Professor, Graduate School of Agricultural and Life Sciences, Faculty of Agriculture, The University of Tokyo: "Our Future and Biodiversity" Abstract / Presentation
Part 2
Session 1: "Importance of Ecosystem Conservation and Services"
Yoshitaka TSUBAKI, Director, Centre for Ecological Research, Kyoto University: "Biodiversity and Ecological Services" Abstract / Presentation

Shigeo YACHI, Member, DIVERSITAS in the Western Pacific and Asia (DIWPA): "Linking the Interest of the Local Community and the Protection of the Environment: Management and Governance of Water Resources of Lake Biwa"
Abstract / Presentation
James PETERS, Chief Advisor, ADB-Supported Greater Mekong Sub-Region (GMS) Core Environment Program, GMS Environmental Operations Centre: "Mobilising Ecosystem Services Markets in Support of Biodiversity Conservation and Climate Change Adaptation Strategies in the Greater Mekong Sub-Region"  Abstract / Presentation
Fumiko NAKAO, Fellow, United Nations University (UNU), Institute of Advanced Studies (IAS): "SATOYAMA Initiative: Advancing Sustainable Use of Biodiversity and Human Well-Being" Abstract / Presentation
Part 3
Session 2: "Involvement of Citizens and NGOs/NPOs for Biodiversity Conservation"
Teppei DOUKE, The Nature Conservation Society of Japan/Japan Civil Network for Convention on Biological Diversity: "Activities and Role of Citizens towards CBD COP10" Abstract/ Presentation
Shigeru OGURA , Miki Circle of the Friends of Nature: "Environmental Education and Biodiversity at the Local Level" Abstract / Presentation
Yukio YASUI, Hyogo Waterfront Network: "Conservation of Biodiversity by Collaboration among Local People, Schools, Public Administration and NPOs" Abstract / Presentation
Anak PATTANAVIBOOL, Thailand Country Program Director, Wildlife Conservation Society (WCS) Thailand Program: "From Hunters to Guardians: A Story of Hornbill Conservation Community from Southern Thailand" Abstract / Presentation

Download Other Resources: