APN International Seminar on Challenge 25 Beyond Borders?: Promoting a Low Carbon Society, 23 January 2010, Kobe, Hyogo Pref., Japan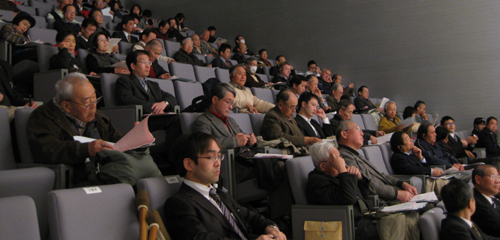 In the past years, environmental issues such as global warming have been threatening all sectors of society including civil society as it greatly affects our lives. Since the Kyoto Protocol was brought into effect in 2005, a number of concrete countermeasures to reduce the impacts of global warming have been devised and implemented including efforts to reduce greenhouse gases. One of the most recent initiatives to reduce greenhouse gas emissions is by realising a low carbon society. But what exactly do we mean by this? How can we achieve it? How does it operate?
In this International Symposium, Asia-Pacific scientists, policy-makers and stakeholders will discuss general issues and recent developments surrounding the topic of low carbon society and how it can contribute to the global effort to reduce greenhouse gases in the atmosphere and reverse the impacts of global warming. Specific measures and activities that will help promote a low carbon society will also be discussed.
Organised by:
Asia-Pacific Network for Global Change Research (APN), Hyogo Prefectural Government
Supported by:
Ministry of the Environment, JAPAN; Institute for Global Environmental Strategies- Kansai Research Centre(IGES-KRC) and Hyogo Center for Climate Change Actions (Hyogo Environmental Advancement Association)
Lecturers and Presentations
Masaru MORIYA
"Copenhagen and Challenge 25: Promoting and Realising a Low Carbon Society"
Abstract / Presentation
Youngsook LYU
"The International Research Network for Low Carbon Societies (LCS-Rnet)"
Abstract / Presentation
Shobhakar DHAKAL
"Global Carbon Budget and Challenges for Making Low Carbon Society- Why Asia Matters"
Abstract / Presentation
Yuji NORITAKE
"Towards a Sustainable Low Carbon Society: Perspectives from the Business Sector"
Abstract / Presentation
Koji SHIMADA
"Low Carbon Society and Urban Rural Conditions: Updates from NIES' Research Projects on Low Carbon Society (Phase One)"
Abstract / Presentation
Naomi URAKAMI
"Approach of the Forest Carbon Offset in Hyogo Prefecture"
Abstract / Presentation
Shigeki FUKUI
"Hyogo's Target Measures for Deploying Environmental Efforts towards Creating a Low Carbon Society"
Abstract / Presentation
Download Other References: